Hotel Lounge Hopping
Sunday December 4, 2011
Recently, I tweeted: "Oh the $$ I would have in the bank if I could just stay away from fabulous hotels!" This couldn't be more true.
There is something magical about experiencing beautiful hotels, especially during the festive season. Top-notch service, luxurious surroundings—how can you stay away?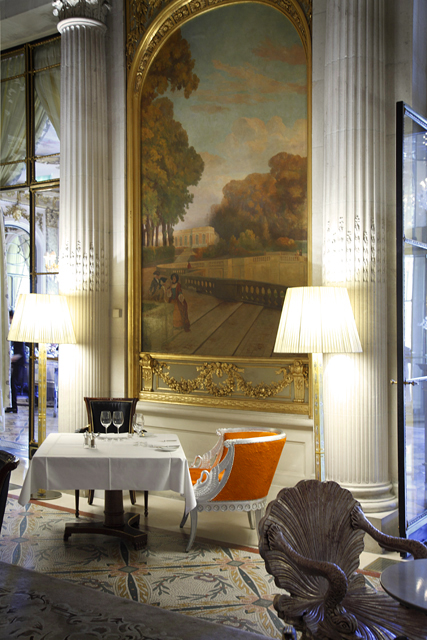 With Christmas around the corner I have been reminiscing about my time last Christmas in Paris. I have mostly been thinking about all the exceptional hotels we visited. But even if you cannot stomach the room costs, which can put just about anyone in the poor house, at least you can enjoy their incredible lounges and restaurants!
Here are my favourites:
Bar 228 - Le Meurice
If I had all the money in the world this lounge would belong to me. Absolutely! I would carve it out of Le Meurice, wrap it up and send it home.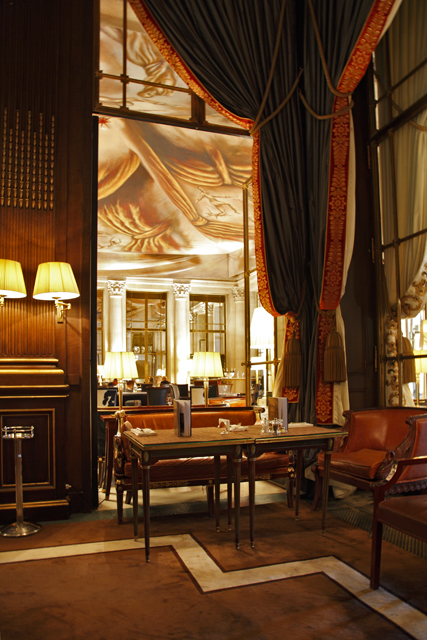 The ambiance and vibe is nothing less than spectacular!
Its lavish decor, perfect lighting and comfortable leather chairs make for the ultimate setting, whether it be for lunch (I have had the pleasure of devouring their club sandwich and frites many times), a decadent cocktail in the afternoon or evening drinks. Lounge perfection!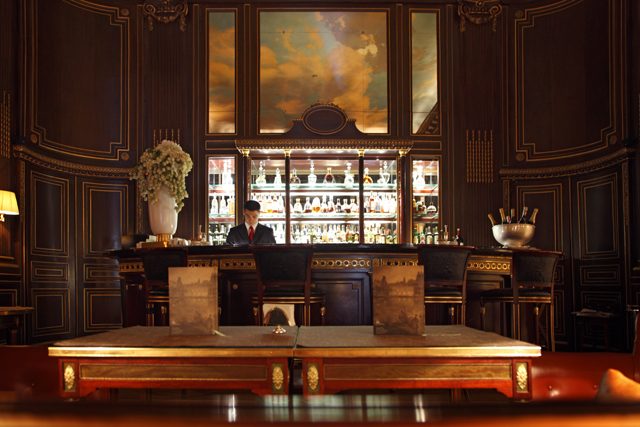 There have been many special moments: Orla and I popping in for an afternoon bevy, festive drinks with my husband on Christmas Eve, my photographer friend Joanne secretly snapping away during our lunch, and then that time with my mother.
A drink at Bar 228 has now become a must when visiting Paris.
La Galerie - George V
Have you ever walked into a room… and your jaw dropped? That's exactly what happened to me when I entered La Galerie the first time.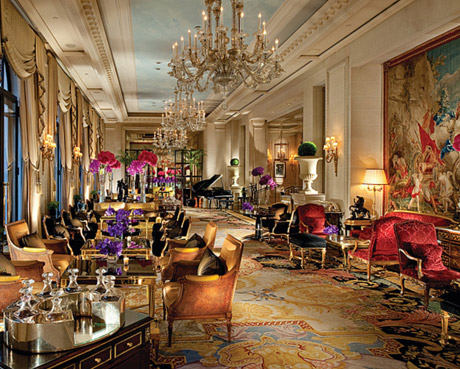 The elegance, tapestries, paintings, lush furniture and, my favorite, the carpet!
I have had the privilege of enjoying their breakfast, specifically the lemon ricotta pancakes. Ya-umm! If you want a real treat while in Paris, have breakfast at La Galerie. A great pleasure, I assure you.
Hemingway Bar – Ritz Paris - Ritz Paris is currently closed for a renovation. I look forward to the doors reopening in 2015!
It's a peaceful place nestled in the back corner of the one and only Ritz Paris.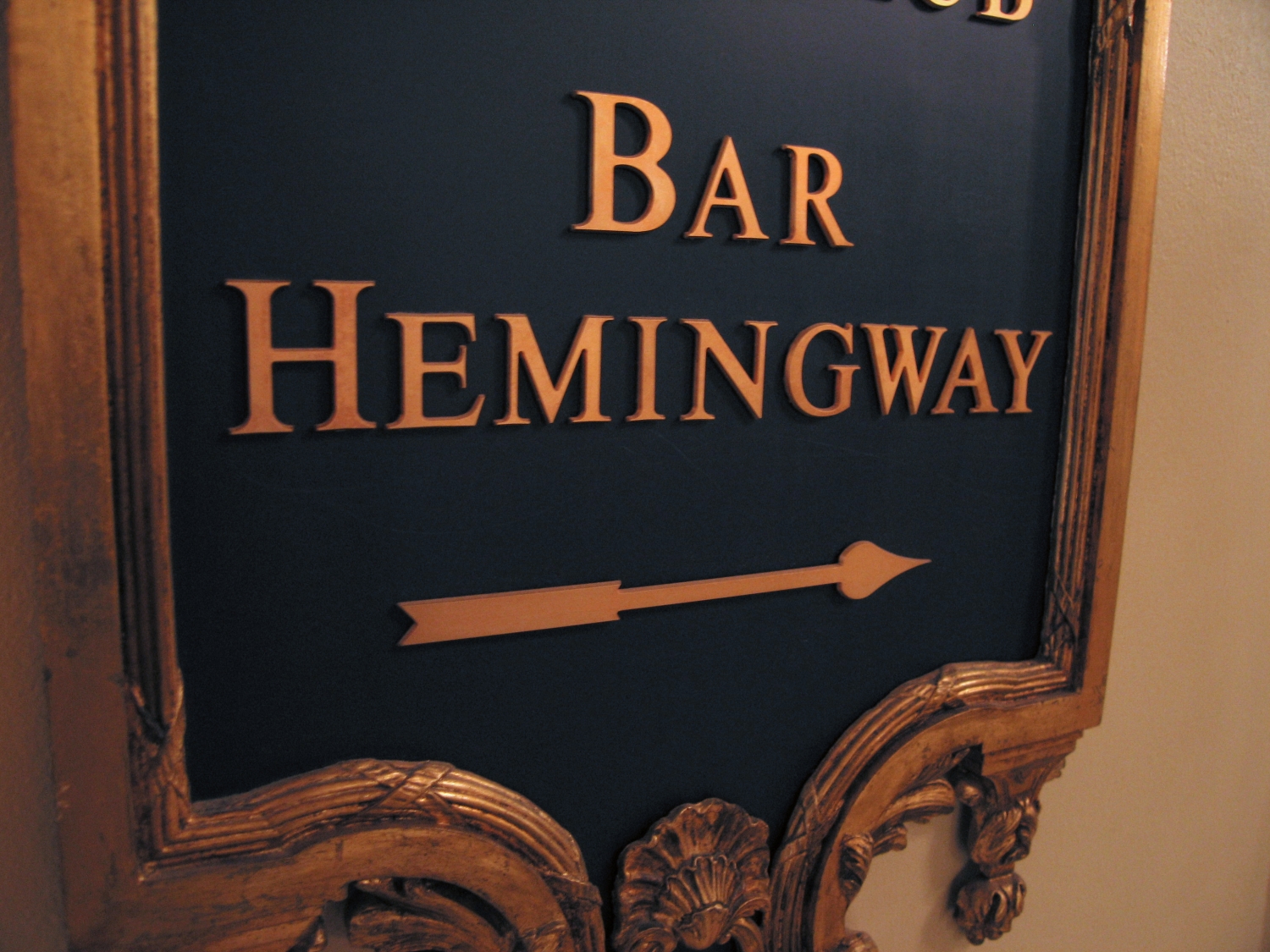 The bar was named after famed author Ernest Hemingway, for whom it was a favourite drink joint. The leather armchairs in the intimate space give it a real relaxed feel—a superb environment for an aperitif.
I love the long walk to Hemingway's. You pass through those famous, and often photographed, hotel entrance doors, walk through the beautifully scented lobby, turn a corner and enter the long corridor which takes you right to the back of the hotel. Voilà, the Hemingway Bar.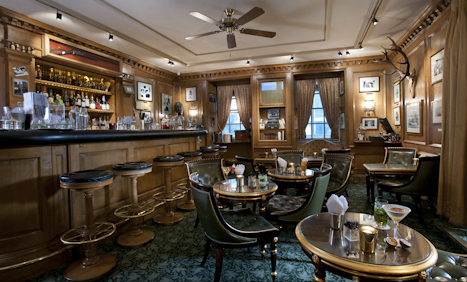 Le Bar and La Bauhinia - Shangri-La Paris
At Shangri-La Paris I have trouble deciding which I prefer: the lounge, Le Bar, or the restaurant, La Bauhinia. Both are striking but offer two completely different experiences.
La Bauhinia is a remarkable restaurant, a setting inspired by the flower. You will understand when you visit. The ambiance gives me goose bumps—good ones!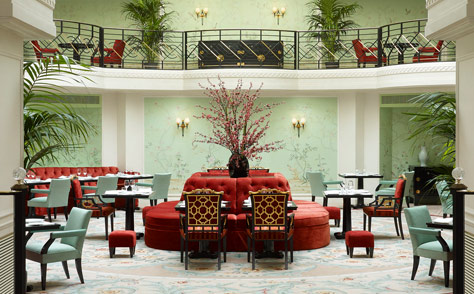 There are two sections of Le Bar. One is in a bar type setting and a little more appropriate for a drink before dinner, and the other one is more of a lounge. The lounge is quite serene, so needless to say it is difficult to leave once you've arrived. Bring a book, laptop or whatever it is that keeps you still, and enjoy the quiet.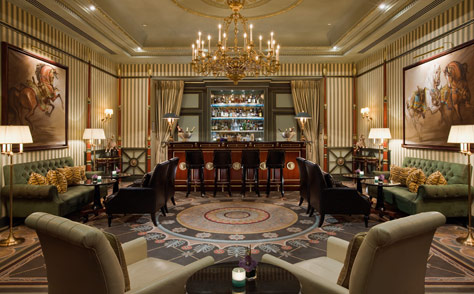 Whichever place(s) you choose, you will undoubtedly enjoy yourself!