A Hotel is the Most Important Part of a Trip!
Tuesday October 1, 2019
When I started traveling, a hotel was just a place to sleep. It didn't matter where I stayed because it wasn't like I was going to spend the day there anyway. Sounds logical, right? Well, this miserable method only led me to unpleasant establishments. The "I can't wait to return to your hotel!" feeling was never, ever present. Was it worth the savings? No. In the end, you actually do spend a lot more time in your hotel room than you think. You will most likely spend just as much of your 24-hour day in your hotel room than you will out of it.
Nowadays, where I spend my precious nights while on holiday means just as much to me as where I go, and how I get there. These three parts of my holiday are equally important.
Because I, thankfully, threw the "a hotel is just a place to sleep" reasoning out the window, I have had the immense pleasure of experiencing some of the world's most amazing hotel brands… one of them being the Dorchester Collection.
In this article I will be focusing on two of their nine extraordinary hotels: Hôtel Plaza Athénée in Paris and Hotel Eden in Rome. Where, and how, do I even begin?
Let's begin with Hôtel Plaza Athénée in Paris.
It was around eight years ago when I met Hôtel Plaza Athénée. I landed at the Charles de Gaulle airport early in the morning. With carry-on luggage only, I was out the door within minutes.
I quickly made my way to the taxi stand; "Hôtel Plaza Athénée, 25 Avenue Montaigne s'il vous plaît," I said to the driver. 'Hôtel Plaza Athénée'! I repeated in my head in high-pitched screams of excitement.
With the beautiful red geraniums and signature red awnings slowly coming into view, I can assure you my widening smile and eyes said it all.
That evening, despite my fatigue, I fought so very hard to stay awake and enjoy every possible minute of this remarkable place. My suite, their beloved ivy-covered courtyard and La Galerie, where I enjoyed my evenings – it was all too much. It was Heaven. I have always said that the ONLY downside to checking in to a gorgeous hotel is that you will soon have to check out. Ugh.
Shall we skip over to Italy? Sì!
The Hotel Eden reopened in the spring of 2017 after an 18-month renovation. Its glamour needed a little polishing! And polished it was!
Since an entrance to a hotel is the first impression, it should make a statement. The beautiful Art Nouveau inspired entrance to Hotel Eden in Rome does just that! Though Hotel Eden was built in 1889, the gorgeous canopy above the front doors was added in 1992. It's a lovely vision when walking into the hotel.
Sitting atop one of the famed hills of Rome, this iconic, luxurious hotel is dressed in the perfect shade of yellow...
...and offers panoramic views from the rooftop restaurant and bar. It's the best place in Rome for an aperitivo!
My room was spacious and deluxe. My bathtub was divine!! The bed was incredibly comfortable. BUT… would you like to know what really threw the experience over the top? During the turn down service the staff left behind a large, delicious strawberry tart and on top of this tart was an edible photo of my pup Oscar. I almost died! Talk about excellent service. What a treat that was, especially because I was starting to become homesick for my little guy.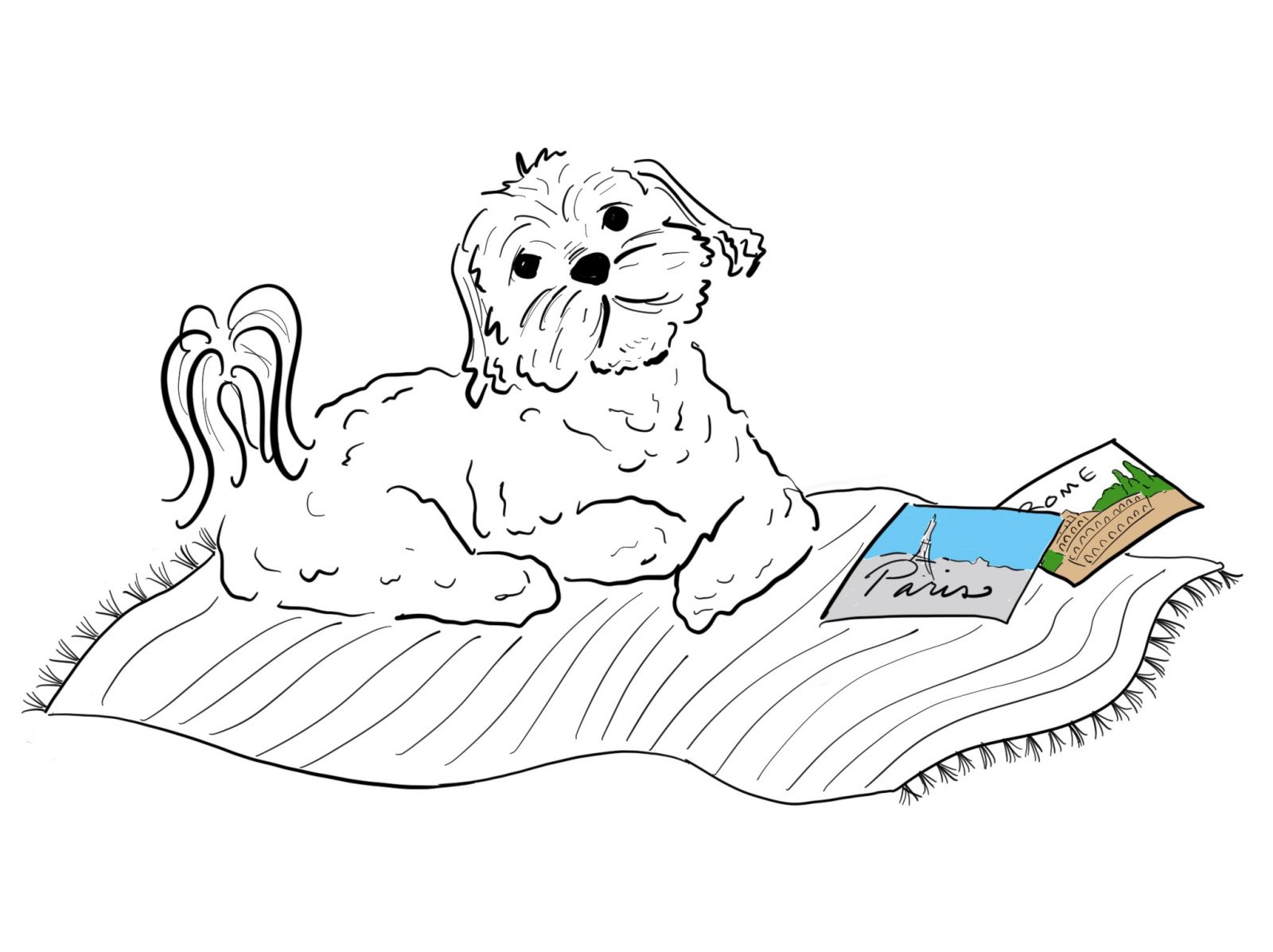 When you stay in a beautiful hotel, you look forward to returning to it at the end of the day. You enjoy your comfortable surroundings while you refresh to go out for the evening and while you prepare yourself for some much-needed sleep. I could go on and on about the importance of staying in a hotel that you will enjoy, as opposed to seeing it as just a place to crash.
I do have to say this, though; it is quite clear that the staff at Hôtel Plaza Athénée in Paris and Hotel Eden in Rome take pride in their work. I think an employee with a sense of pride says absolutely everything about who they are working for.
All sketches by the beautiful and talented @asophisticat