Exploring the World of Aman in Jackson Hole, Wyoming
Tuesday January 29, 2019
When we booked our trip to Jackson Hole, Wyoming, I had no idea what to expect. But I did know we were in for an amazing experience at the Amangani Resort – we'd already been blown away by another Aman hotel in Marrakesh.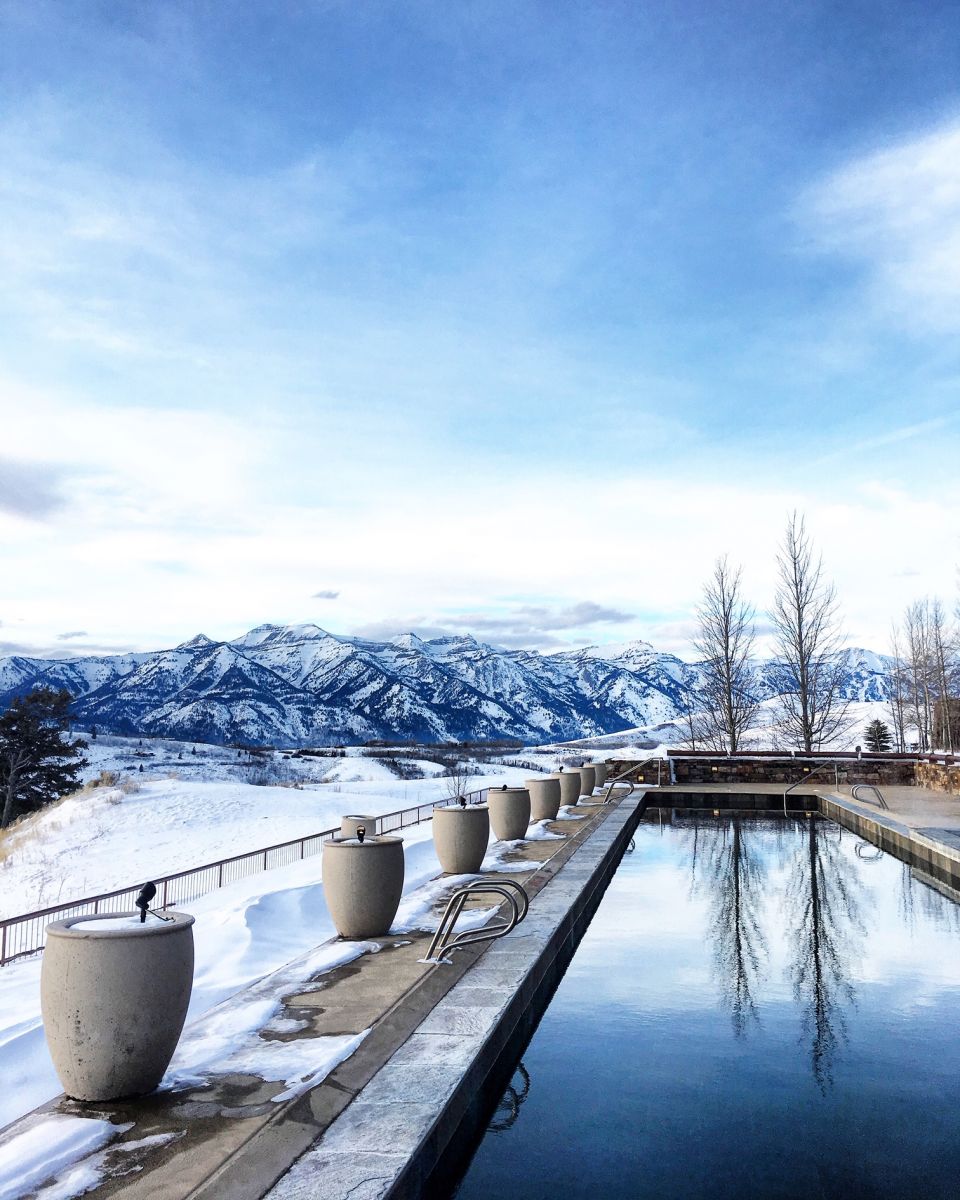 I can honestly tell you that Jackson Hole valley, in the Teton Range of the Rocky Mountains, is one of the most beautiful places I have ever seen. If that refreshing mountain air and endless crisp, white snow doesn't make you feel good, I'm not sure what will.
The scenery was stunning, and we could enjoy it from the moment we were picked up at the airport to twenty-five minutes later, when we arrived at our hotel.
Describing these moments is what draws me to writing. I get to return to all the places I love. I get to relive walking through the grand wooden front doors of Amangani and being struck by that dramatic view!
The understated, though luxurious, lobby is back dropped by miles of snow-covered landscape. It would take anyone's breath away.
Everything about Amangani was outstanding. They have certainly managed to capture the Winter Wonderland effect.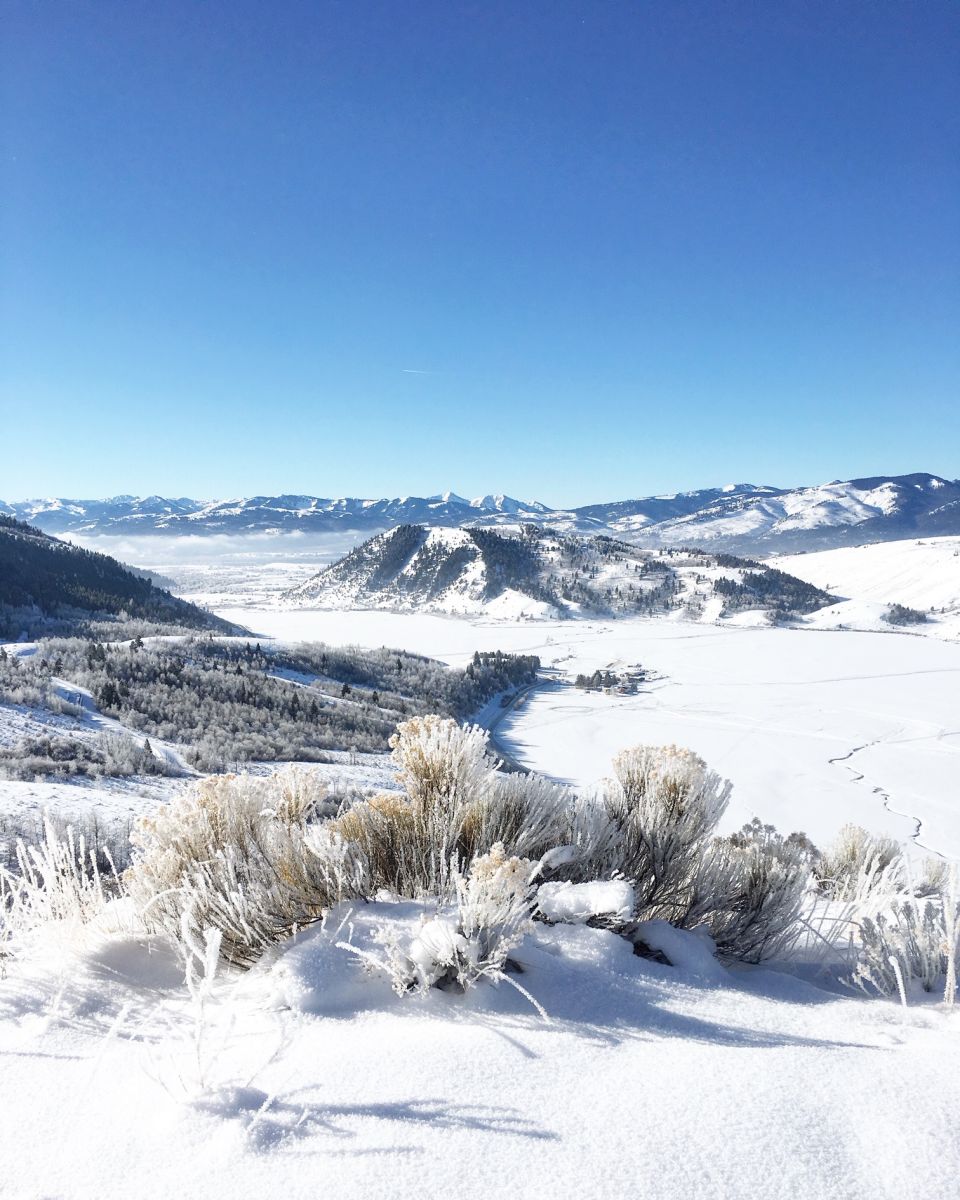 My husband was thrilled since Jackson Hole is a skier's paradise. He is the avid, and seriously skilled, skier in our household. Even if I wanted to join him on the hills I would never be able to keep up. So I was quite content to be the avid reader and sit in front of a roaring, crackling and cozy fireplace. Why brave the backcountry (okay, maybe it would have been more like the beginner trail for me…) when I can enjoy the aroma and warmth of a wood-burning fire?
But of course, I joined in for the fun part – après ski! C'mon. What a question.
Every day around 3 p.m., I put on my ski-wear, pinched my cheeks and stuck my head in the snow for a minute. This was so when I entered through the doors of the après ski hot spot, Mangy Moose, I could unmask my balaclava, shake off the snow and look like I had just gotten off the hill. Voilà! Lounger turned ski bunny.
(Actually… I didn't really do the gear and snow part. But now it's gotten me thinking!)
After a day of skiing or lounging, we could return to the Zen-like, mini chalet feel of our suite, with its slate bathroom, large, soft and plush carpeted his and her's dressing rooms, wood-walled living area with faux-fur furnishings, fireplace and a view of the snow-covered valley.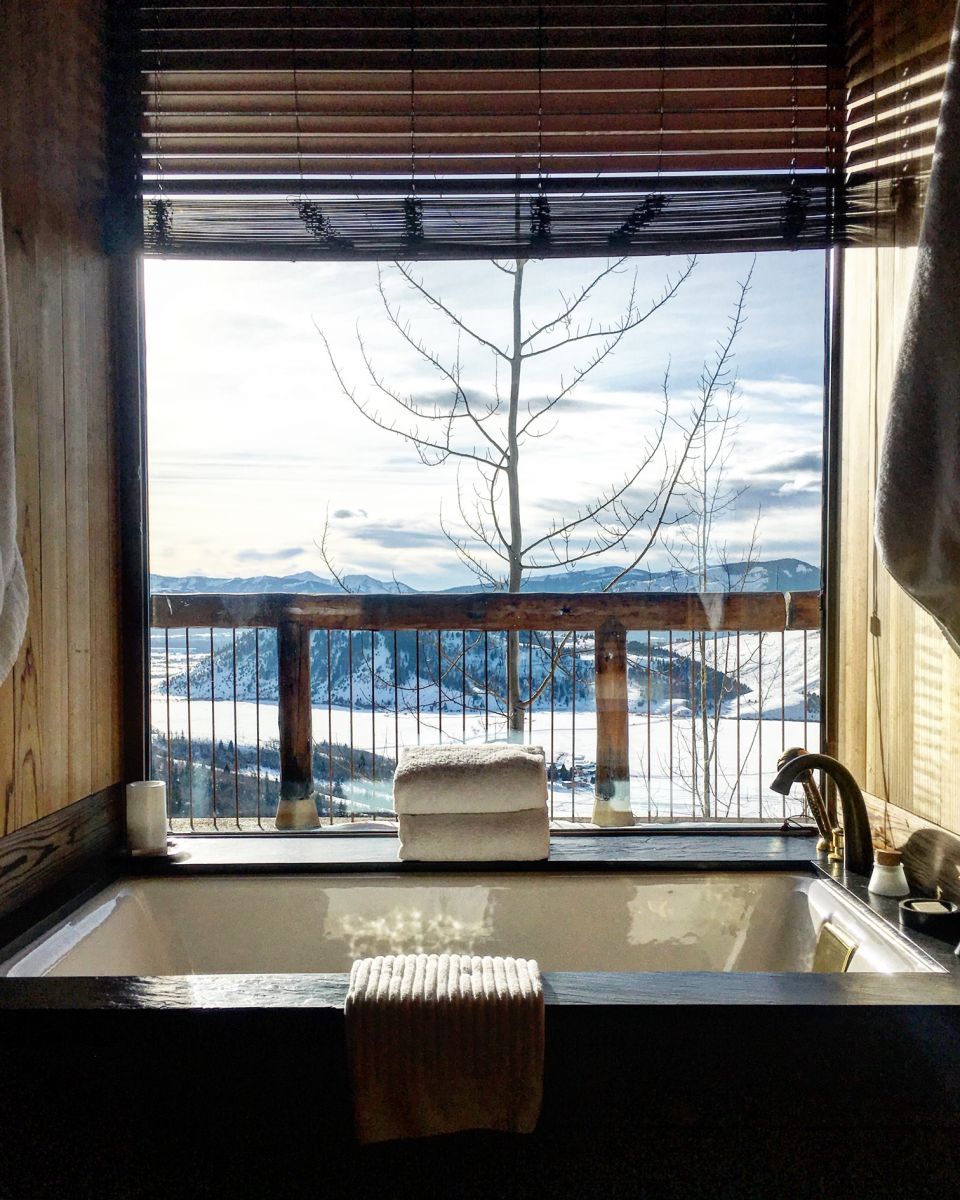 The only unfortunate piece of this dreamy trip was that I had a terrible cold throughout the entire time we were there, and towards the end of it my poor husband caught that same cold. We did, however, make the most of it! Sneezes and sniffles weren't going to hold us back.
Seeing a bit of the wildlife in the surrounding area was a wonderful distraction from our annoying winter cold! We loved every minute of our sleigh ride tour of the National Elk Refuge. Seeing bison, bighorn sheep, moose and bald eagles in their element later on that same day gave us pure joy.
One of my favourite moments during the trip was our trek out to the famous T.A. Moulton Barn. During a quick lunch stop in Moose, the teeniest of towns (If you blink you will miss it. Not kidding!), we heard from a local about the picturesque, historic barn in the area and how apparently it is the most photographed barn in America. Well!!! Guess who had to snap a picture of it too? Me!!
I suppose that had I known it was going to take us forty-five minutes (one way!) of trekking through deep snow, by ourselves, in the middle of nowhere, on a very foggy day – I probably wouldn't have taken it on. So I am glad I didn't know!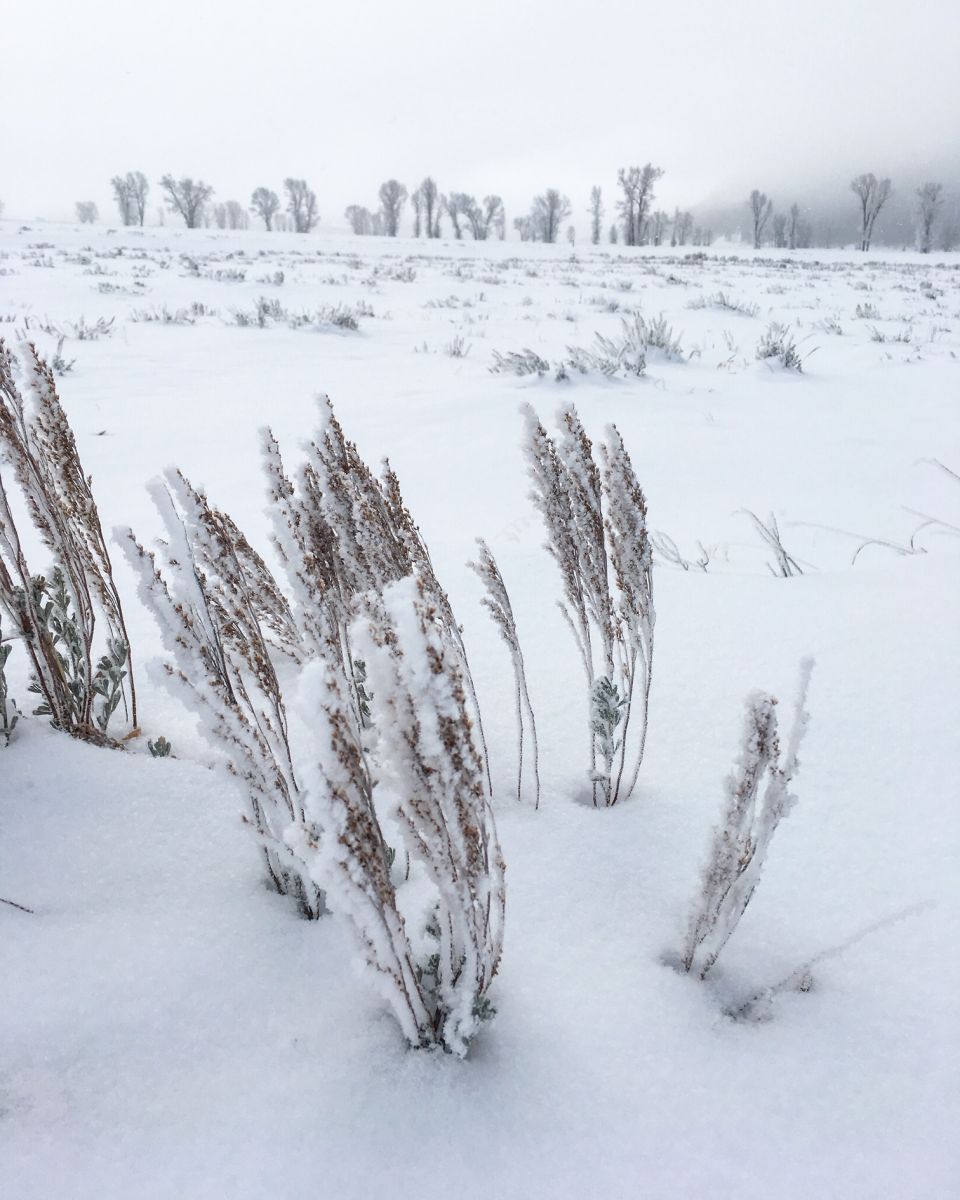 After twenty-five minutes of trudging towards a barn, I stopped, looked at the barn...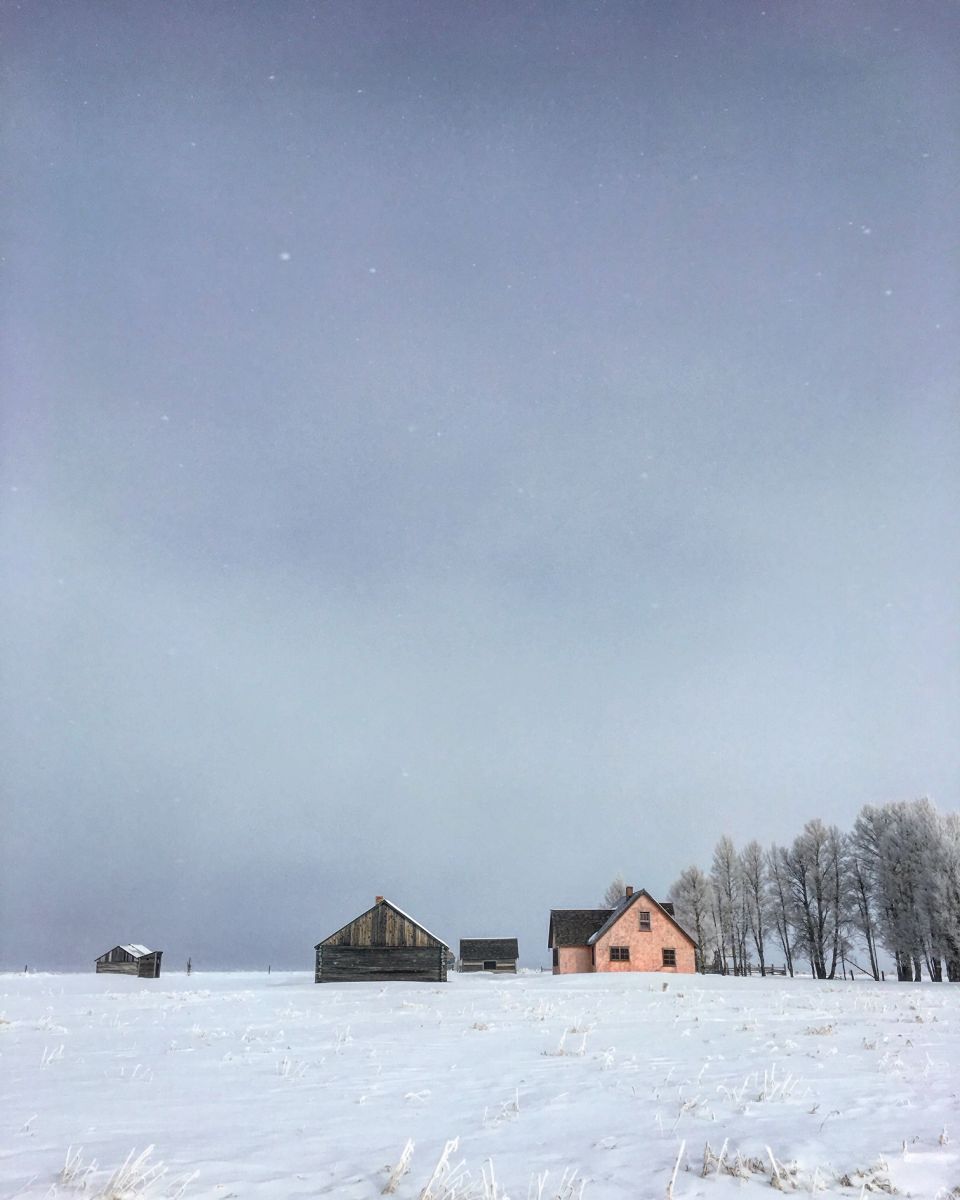 and then looked over at another barn way in the distance and said… "Ooops, I think it's that one over there!" The look on my husband's face was priceless! I am quite sure he would have clocked me in the head had he not been stuck knee-deep in snow. Ha! Off we went to the right barn!
Tah dah!
What a workout it was… BUT, I was very happy when we were finally standing in front of the famous Moulton barn.
I have a little feeling that my husband liked it too, though he is still unable to admit it.
Later that day, back at our hotel, I literally crashed: right here!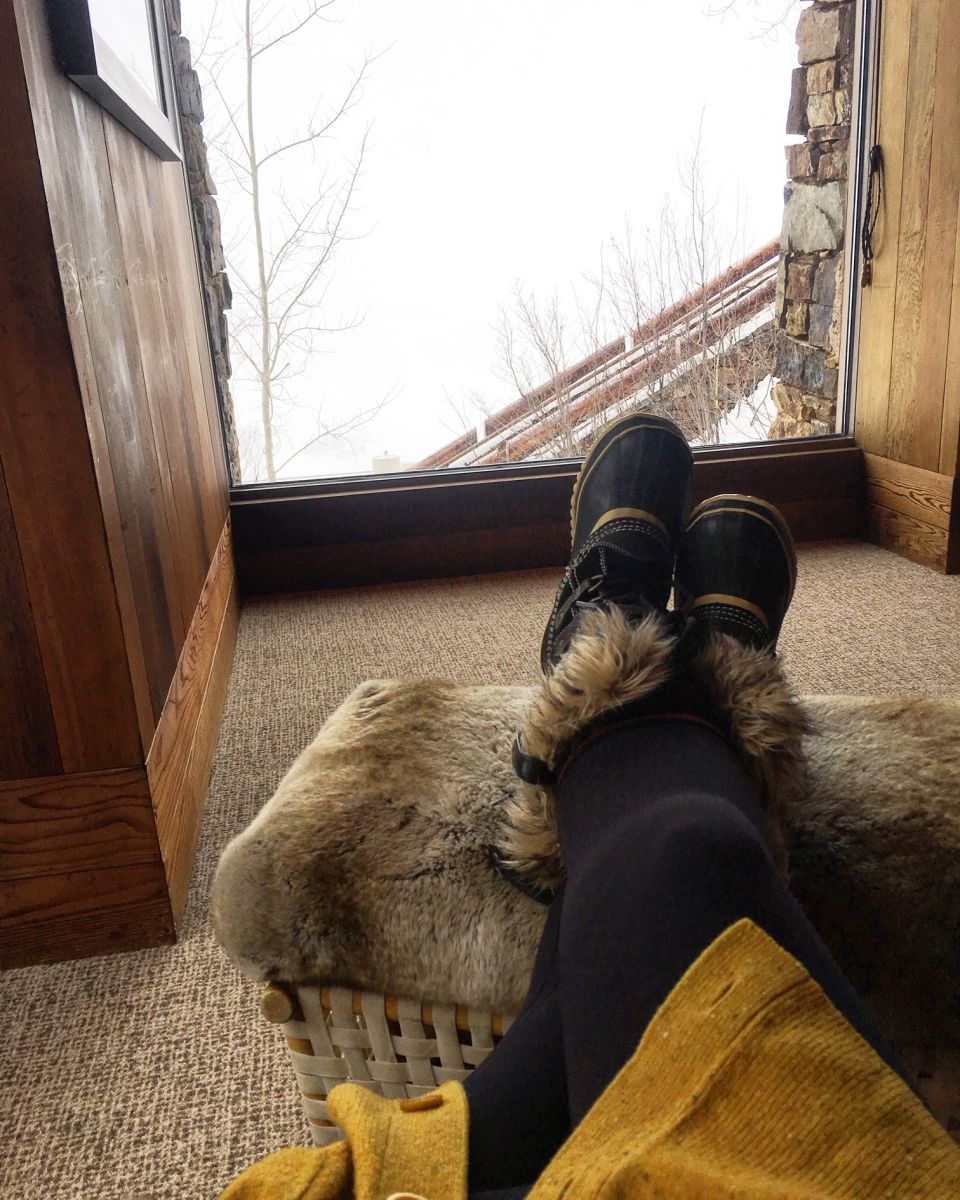 Talk about maximum relaxation time. I had my book, a steaming hot cup of lemon water with honey, and a view. What a gift.
Jackson Hole, and Amangani, you did me proud. I completely fell head-over-heels.
As the saying goes, all good things must come to an end. However, in contradiction to the popular saying, I am only just beginning to explore the world of Aman resorts, and predict many more good things to come!