Life is not complete until you've enjoyed a bit of Parisian luxury. Hotel Heaven! These places cost a small fortune – but offer an experience you'll never forget.
In this section...
Ritz Paris
Ritz Paris has recently reopened its doors from an extensive three-and-a-half-year renovation!
Although Paris has an ample supply of luxurious hotels, there is nothing quite like the Ritz.
My love affair with this hotel began many years ago. It was prior to the renovation when I spent a memorable three nights here with my mother. From the precious chocolates left on your pillow to the ultra-luxurious peach coloured towels and our beautifully decorated room, I have to say we acted like two girls and could hardly contain our excitement–we were just short of jumping up and down on our beds. It was simply marvellous, and a time I will always cherish!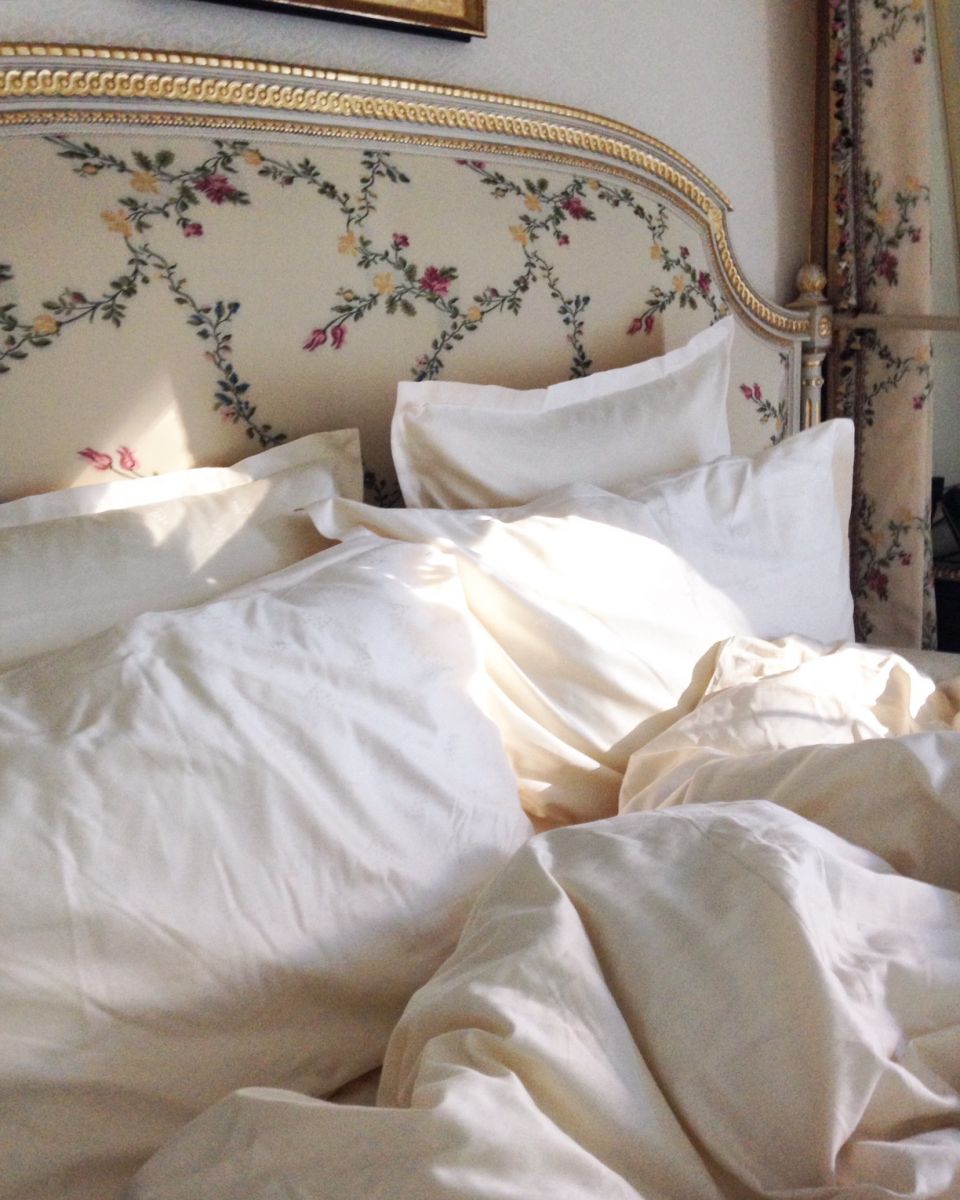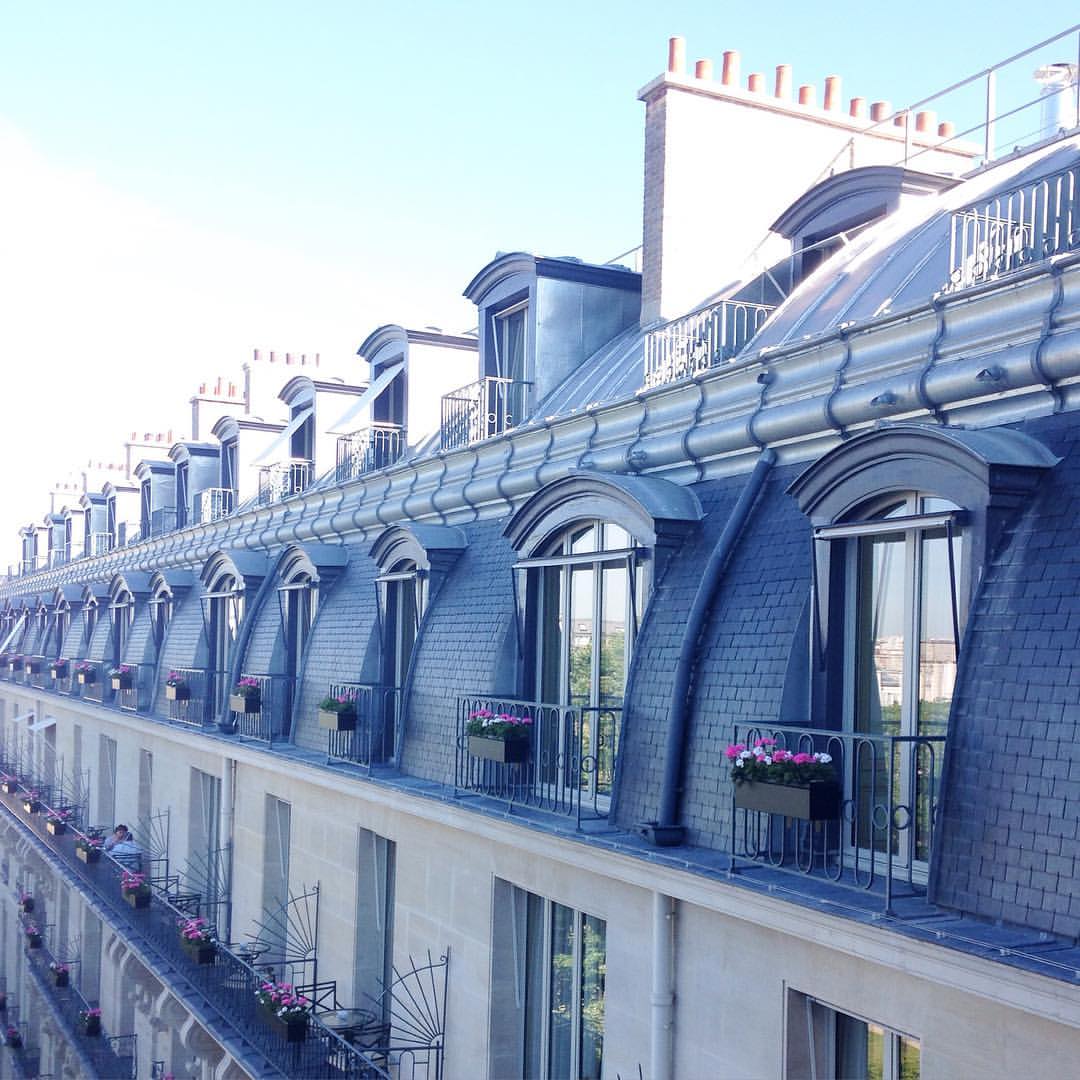 Just recently I had the pleasure of experiencing Ritz Paris once again in all its luxuriously renovated glory. The problem with checking in is you know there will come a time when you must check out! Ugh.
But it's not just about the luxurious finishes...
... the hotel's history and surroundings are just as appealing. Bar Hemingway is nestled in the back corner of the hotel, named after famed author Ernest Hemingway, for whom it was a favourite drink joint. And the most desirable: the Coco Chanel Suite...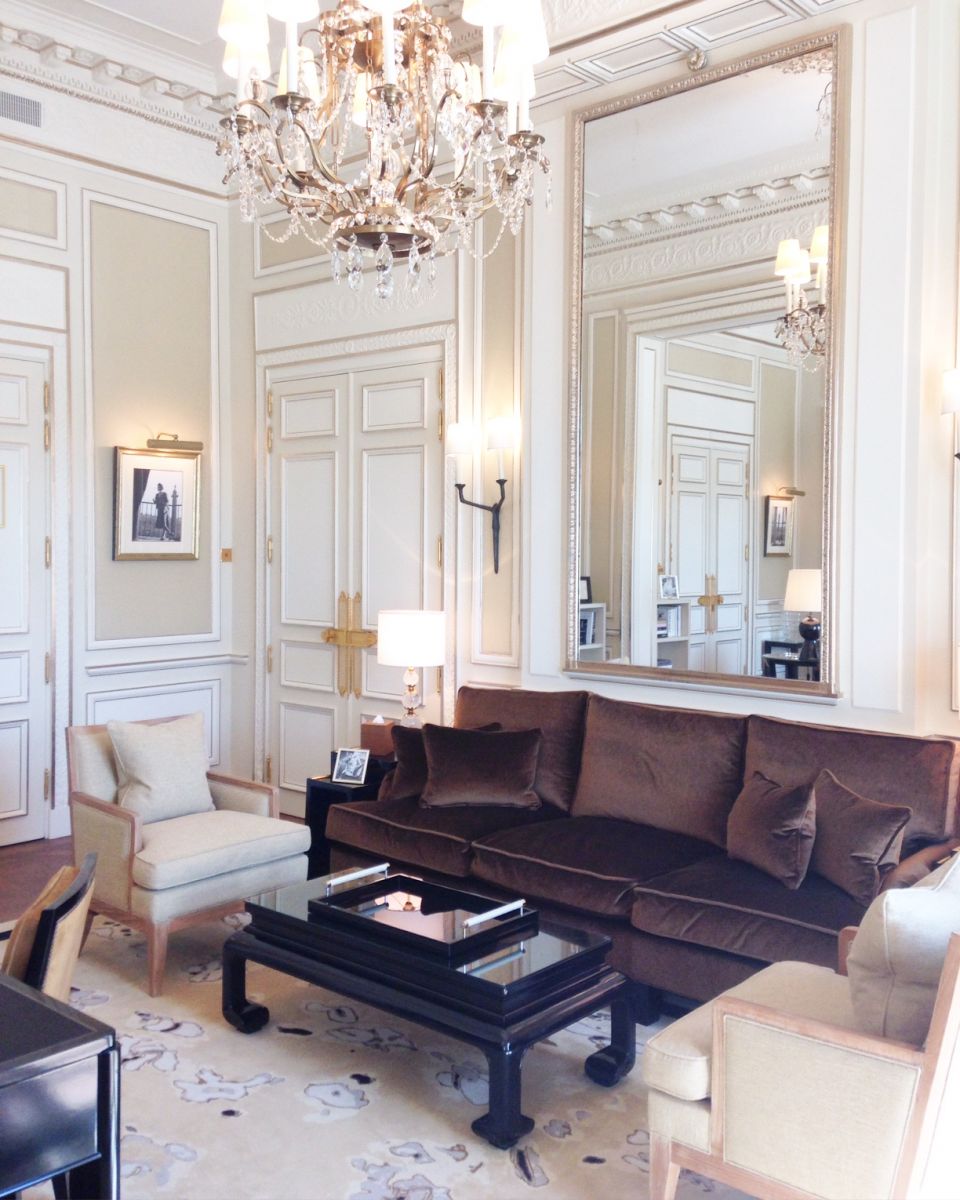 ... available for the lucky few who can afford such extravagance. Imagine staying where Coco stayed! A girl can dream!
However, saying that, if I did have a choice to stay in any suite at the Ritz Paris it would most definitely be the Imperial Suite. It left me speechless.
Dating back to 1898, this hotel is one of the most recognized hotels in the world and is at the perfect location, right at the heart of Paris. The Ritz is worth every hard earned penny.
Hôtel de Crillon
Hôtel de Crillon is currently closed due to a renovation.
Staying on Place de la Concorde was fascinating. What an historical wonder!
The largest square in Paris is home to two massive identical stone buildings which sit at the north end. Originally built to house government offices, shortly after its construction the structure on the west became one of the world's first luxury hotels, Hôtel de Crillon: a place for the rich and famous, and where Marie Antoinette and her society friends would frequent for afternoon tea. It has since become a little more affordable for the curious, like me.
What I love about this hotel, besides our wonderfully comfortable room and the superb service, is the easy access to all of Paris's finest areas. The Tuileries garden is just outside the front door, as is Rue Royale with its magnificent shops, the Louvre, the scenic Seine River, the Arc de Triomphe and a view of the Eiffel Tower peeking over the tree-lined walkways.
We loved our time spent having tea and cake in the cozy Winter Garden tea room and later meeting up with friends for drinks at Le Bar Crillon.
Amazing memories from Hôtel de Crillon!
George V
Turning on to avenue George V, pulling up to all those wonderfully-garbed smiling doormen, exiting the taxi and entering through the magical iron and glass front doors; I'll never forget it. The anticipation and excitement of staying at the George V! My God, how could I not scream? Well, I didn't. I held back, stayed calm and checked in like a grown up.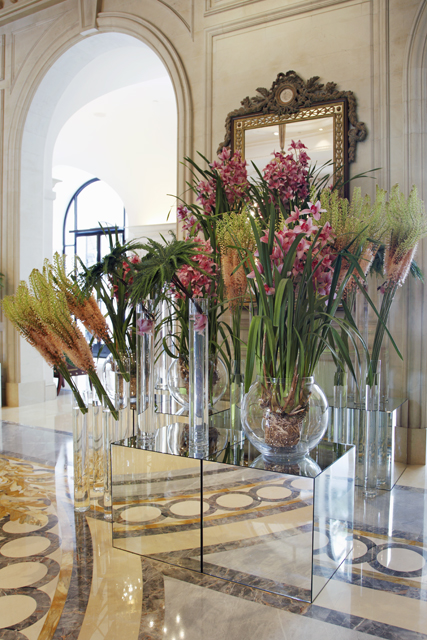 Four Seasons never ceases to amaze me. It is always clear that customer service is their number one focus; therefore, I do not need to waste any more time elaborating on their never disappointing and always outstanding staff.
I will, however, elaborate on a few features that make George V so incredibly special. After the excitement of arriving, you are taken to your room: top- notch and very pretty, and featuring the most comfortable bed I've ever slept in. A large marble bathroom - always a favorite of mine - with heated towel racks, cozy slippers and lush bathrobes also awaits you. Total luxury!
It only got better the next morning over breakfast: dining and people-watching in the elegant La Galerie was definitely a highlight. The vibrant and rich colours, lavish warm fine furniture and that carpet! Taking it all in over a plate of lemon and ricotta pancakes, fresh fruit, and my very own precious silver pot of hot coffee made the experience as close to perfection as it's going to get.
After a full day of Paris, cozying up to my husband in Le Bar was also a great time. My favorite spot, the side table right at the entrance, is another great venue for people watching and relaxing.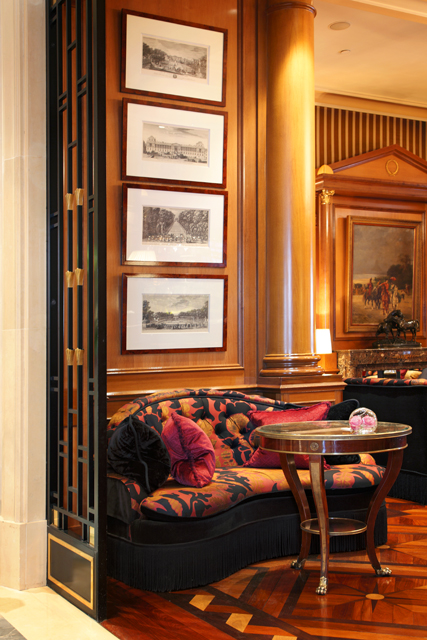 The lobby and exquisite arrangements of fresh flowers, the quiet elegant corridors, the beautiful spa, the over all attitude and ambiance... George V was dreamy, every single step of the way.
Le Meurice
Ultra chic, and defines elegance to every degree!
Facing the Tuileries garden, Le Meurice sits proud. Any hotel situated close to the Tuileries garden will automatically be a favorite of mine, but on top of the location this hotel has a real wow factor outside and in. You are hit with opulence the minute you walk through the front doors.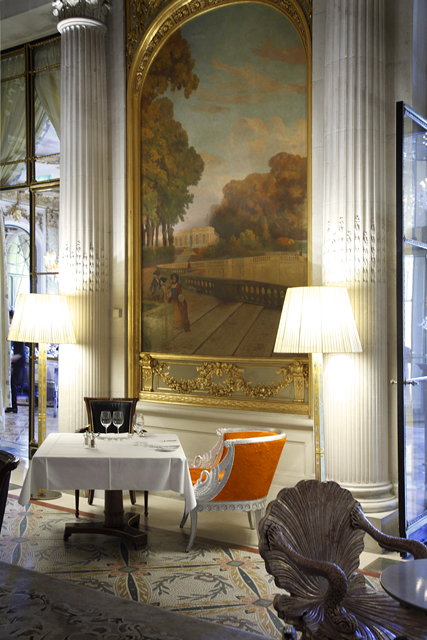 After visiting Le Meurice for an afternoon tea and another time for a refresher in the lobby bar after a day of shopping, I added this spot on my Must Stay list.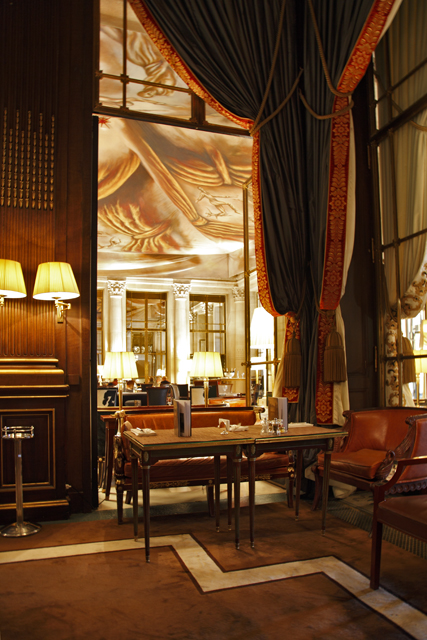 It truly is a beautiful place. I cannot say enough about it. The entire package is impressive; the room, the staff, the food: all was splendid!
Shangri-La Paris
In my eyes Shangri-La Paris is another perfect example of "Hotel Heaven."
The minute we stepped out of the car they were on. Everyone—the doormen, concierge, reception—all were welcoming and gracious. They seemed genuinely pleased to see us and all of a sudden I became extremely excited about spending four nights in this lap of luxury!
A lady from reception greeted us as we walked into the lobby. "Welcome, Mrs. Thiessen"… How did she know? I arrived two seconds ago!
Advised that our room was ready, we headed straight for the elevators.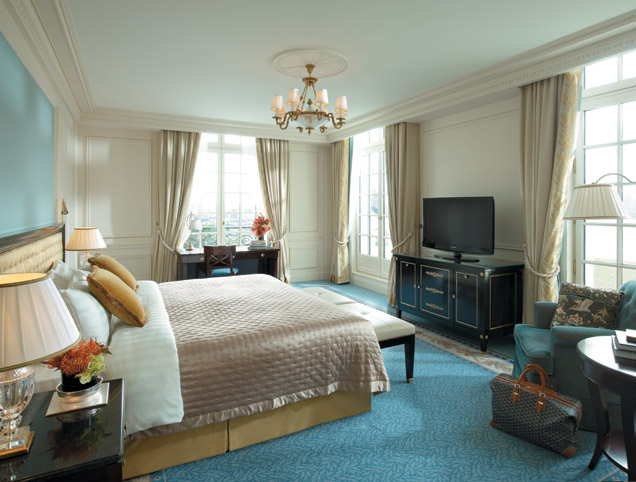 The history of Shangri-La is quite interesting in that it was the former grand residence of Napoleon's grandnephew, Prince Roland Bonaparte. It was built in 1896 and remained his primary residence until his death.
Recently restored into a luxury hotel, it now holds 81 rooms, 27 suites and a few of the most incredible ballrooms you will ever see. Having toured many of the different types of rooms and suites, I can say that I have never seen a hotel offer views like this one. Many of the rooms have full, breathtaking views of the Eiffel Tower, from its base to its top! And if you are fortunate enough to stay in one of their suites your view will span from Sacré-Cœur all the way west to and past the tower.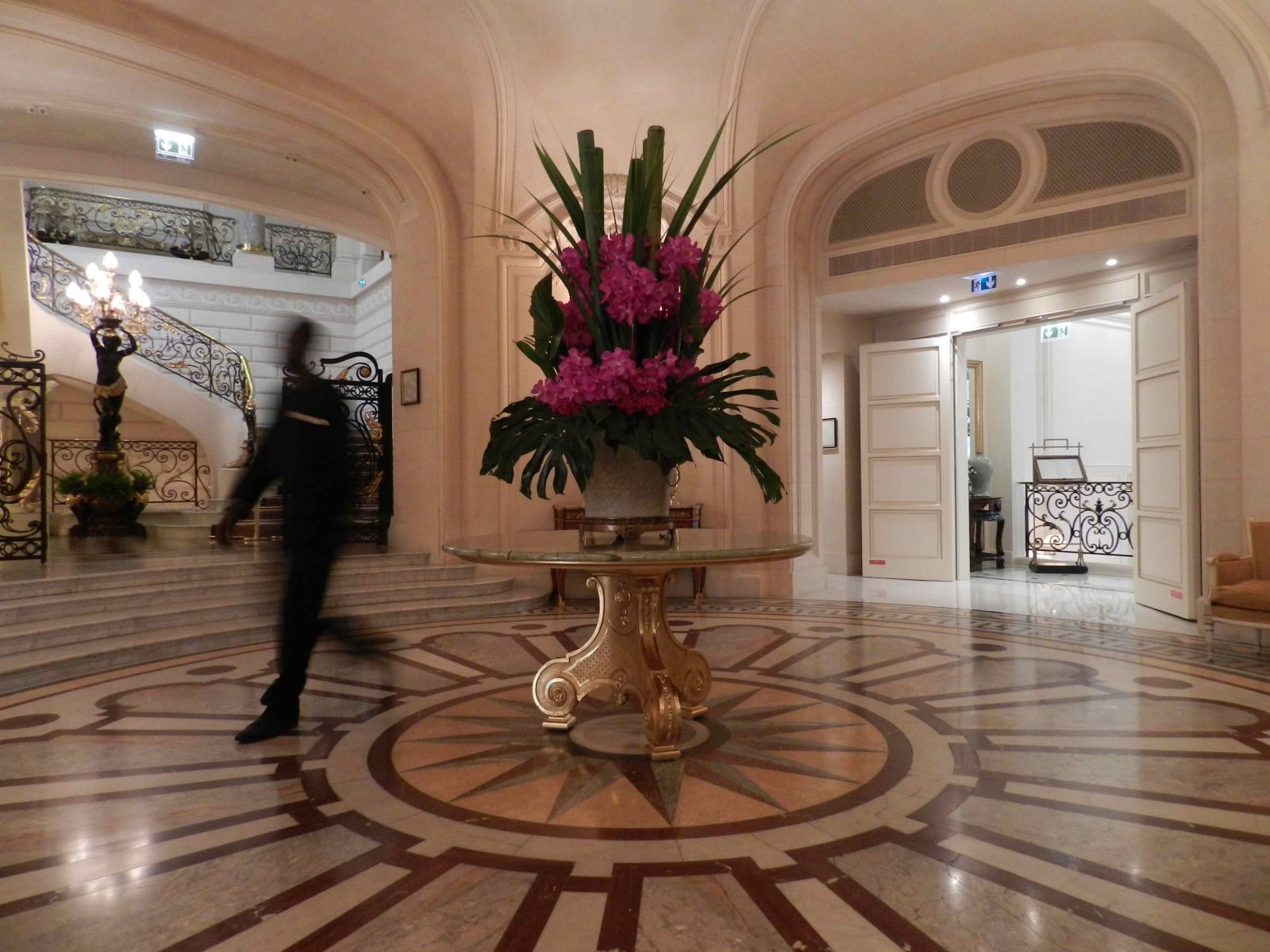 Once we arrived in our room we were served a beautiful jasmine tea while we checked in. (Loved the tea pot!) Yes, we checked in in our room—a lovely idea! The room was stunning and included a bathroom and tub facing the tower. Everything was as luxurious as it could be.
Our first night, many hours were spent in the lounge enjoying wine with the company of friends. A perfect place to meet! Later in the evening, we took a room-service Italian dinner on our balcony. We ate in silence; the view literally left us speechless.
Every morning, a breakfast fit for kings was served in La Bauhinia, a remarkable restaurant inspired by the flower. The ambiance gave me goose bumps every time—good ones!
The hotel is within walking distance to the Trocadéro. There is also a metro stop right outside the front entrance with easy access to anywhere you want to go in Paris. I specifically enjoyed this area because it is quiet and peaceful. You'll find many restaurants within walking distance and of course the concierge can always put you in the right direction if you are unsure of where to go.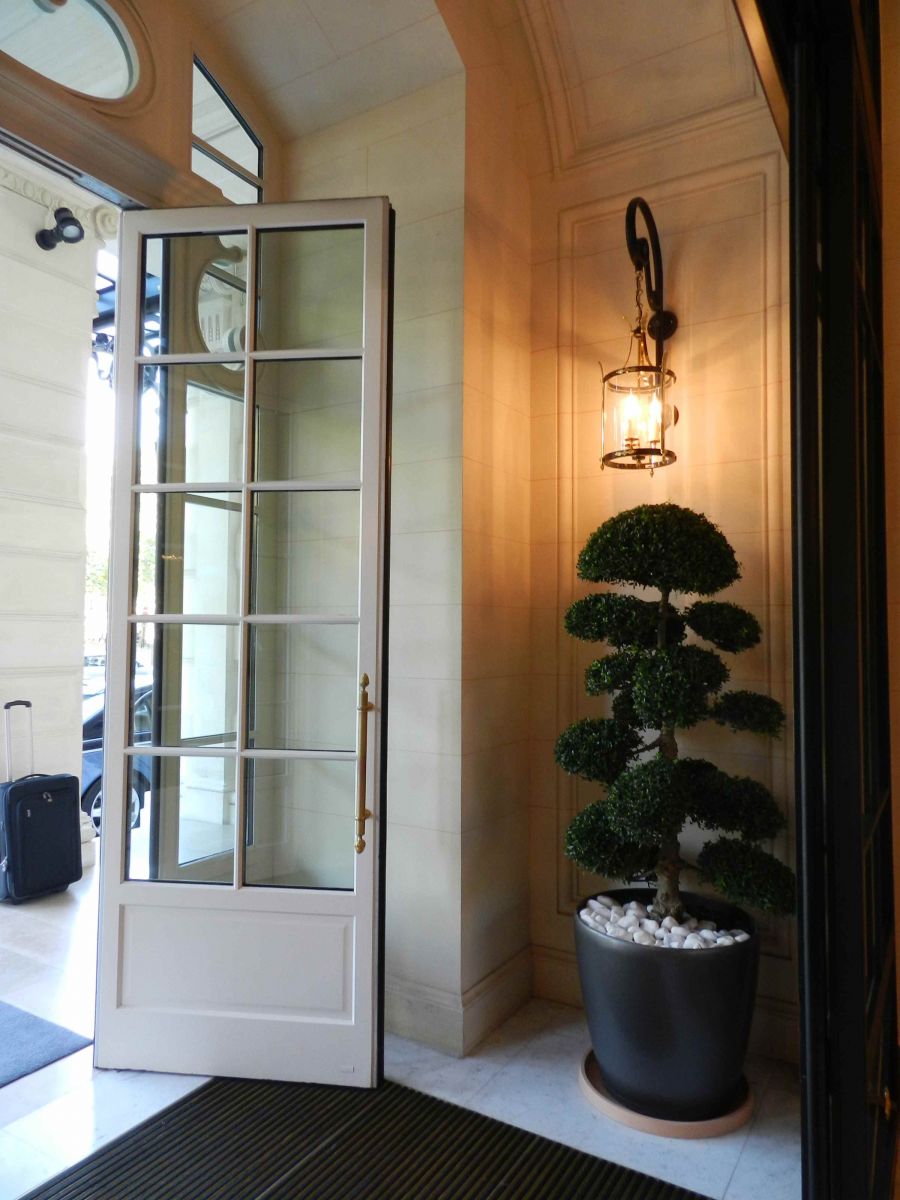 You must experience this hotel. You will not be disappointed. In fact, it will be quite the opposite. And next year, it will only get better with a brand new pool and spa.
Thank you Audrey and Laura for making my stay at Shangri-La one I will never forget!
Location
&

Address Details

10 avenue d'Iéna, 75116 | Google Maps
Hôtel Plaza Athénée
I landed at Charles de Gaulle early in the morning. With carry-on luggage only, I was out the door within minutes.
I quickly made my way to the taxi stand; "Hôtel Plaza Athénée, 25 Avenue Montaigne s'il vous plaît," I said to the driver. 'Plaza Athénée!' I repeated in my head in a high-pitched scream.
With the beautiful red geraniums and signature red awnings slowly coming into view, I can assure you my increasing smile and wide-opened eyes said it all.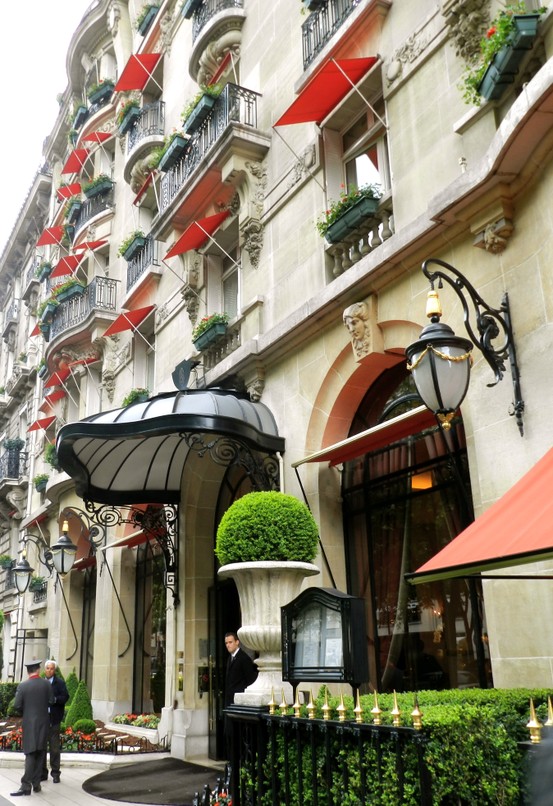 The lobby was welcoming, grand and elegant, yet wonderfully intimate.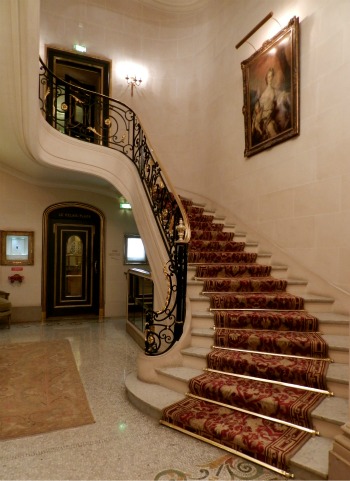 The room was beyond anything I had imagined. Every aspect was divine. How can you possibly describe a room like this? Incredible! I was already dreading my departure and I had only just arrived.
It was unfortunate that I was unable to experience The Dior Institute due to time constraints; however, I did manage to sneak a peek at the hotel's stylish and famous spa. The relaxation area with a decorative pool was most certianly inviting!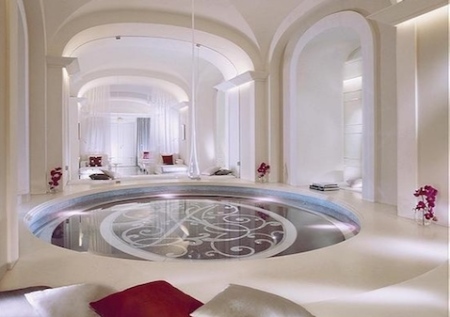 While walking through the corridors I managed to bump right into the hotel's precious little children's electric convertible car. Had I not suspected cameras watching me I most likely would have tried to squeeze in. Adorable!
On the way back to the hotel, after a full day of touring Paris, I slipped into a pâtisserie, Nicolas, and also a marché for the evening's staples. The plan was a night on the town with some friends; however, after seeing my temporary life of luxury, plans quickly changed: I was entertaining.
Afterwards, despite my fatigue, I fought so very hard to stay awake and enjoy every possible minute of this remarkable place. Hôtel Plaza Athénée – I will never ever forget you.
Le Royal Monceau- Raffles
I will never forget Christmas at Le Royal Monceau- Raffles.
The mix of modern design with classic French is stunning!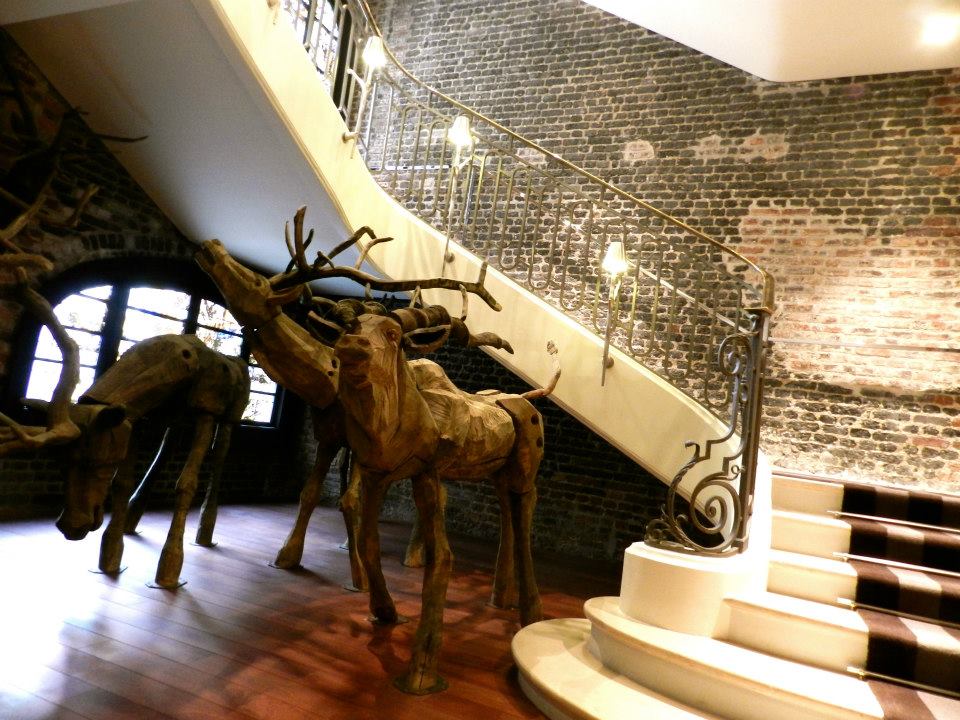 Our room was spectacular, to say the least. It was gorgeous, spacious and luxurious.
The cozy sitting area, with our very own little Christmas tree, made it feel like home away home.
Our king sized bed was ginormous and draped with soft linens and a beautiful comforter.
I adored the bathroom!
The floors, towel racks and even toilets, with built in bidet, autoflushing, and everything else you can imagine, were heated making your toilette an incredibly comfy experience.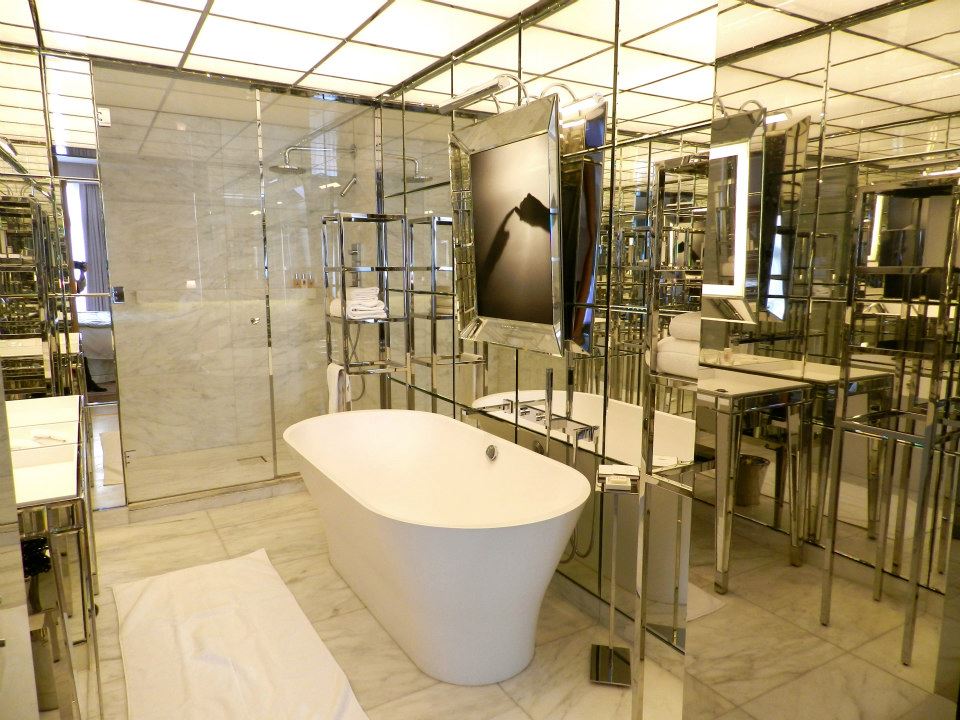 A highlight was the Nobu pop-up restaurant in La Cuisine. Black cod with miso and a little sushi made for the most perfect non-traditional Christmas feast.
Thank you so much Le Royal Monceau- Raffles - you are a gem of a hotel!
Mandarin Oriental Paris
When I arrived at the Mandarin Oriental Paris, they seated me in the lounge and served me tea. This is a part of their check-in process; they make a point of ensuring you are comfortable while explaining the hotel and its many features. All the while, I found myself half listening and half gasping at the large windows exposing one of the most beautiful courtyards in all of Paris.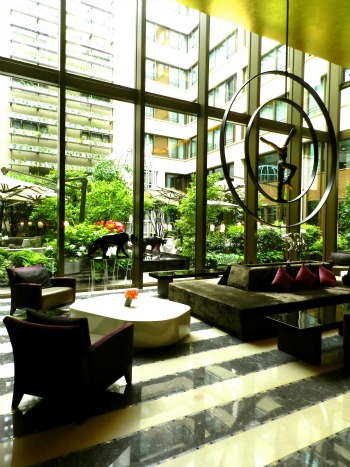 I was then graciously escorted to my room, a one-bedroom suite with a foyer, living area, walk in closet, large bathroom and bedroom with sliding doors leading to a balcony looking on to rue rue Saint-Honoré.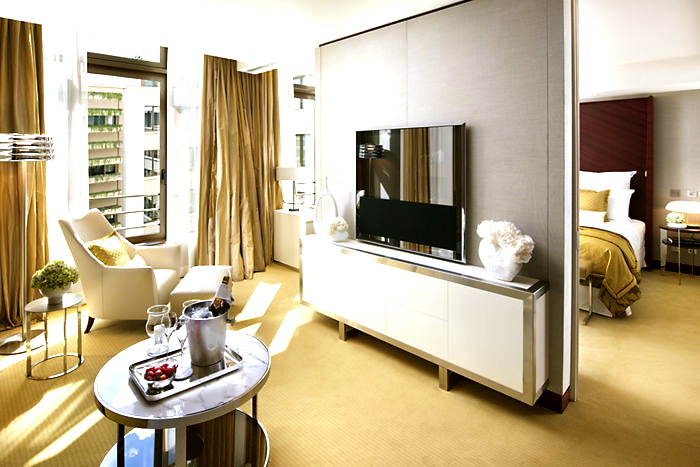 The suite included cutting-edge technology: Bang & Olufsen, Apple. My three discretely positioned widescreen TVs were pretty impressive, especially the little mirrored one in the bathroom. I would have to guess my husband would have been a little more fascinated with the massive ones in the bedroom and living area.
The several Mother of Pearl canisters holding Q-tips and other bathroom staples are fabulous! I wanted to accidentally slip them all into my suite case.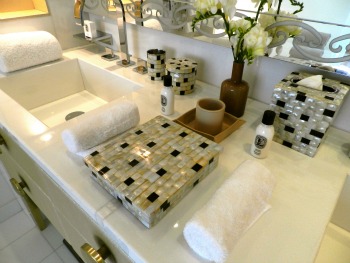 There was a large bathtub and a walk-in shower to fit ten. Not kidding! OK, maybe four. The shower had so many spouts, hand held water sprayers and faucets coming at you in every direction, I wasn't sure what to do with what. But, I can tell you I probably have never been so shiny.
And to top it all off, the luxurious bathroom product was by diptyque.
I had the most fantastic lunch. I have to admit that I do not have a palate for fine dining, so I was hesitant. Precious food, displayed like little pieces of art, is usually a disappointment in the taste category, at least for me. Not at Camélia. I ordered the 'This Season's Vegetables' dish. It will forever be one of my all-time favourite meals.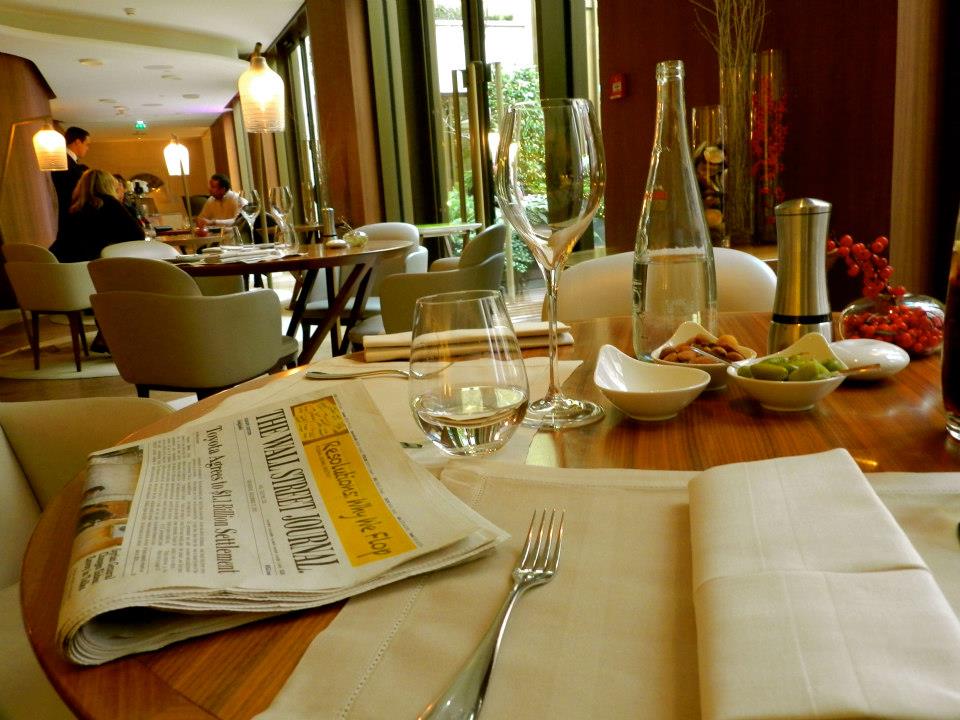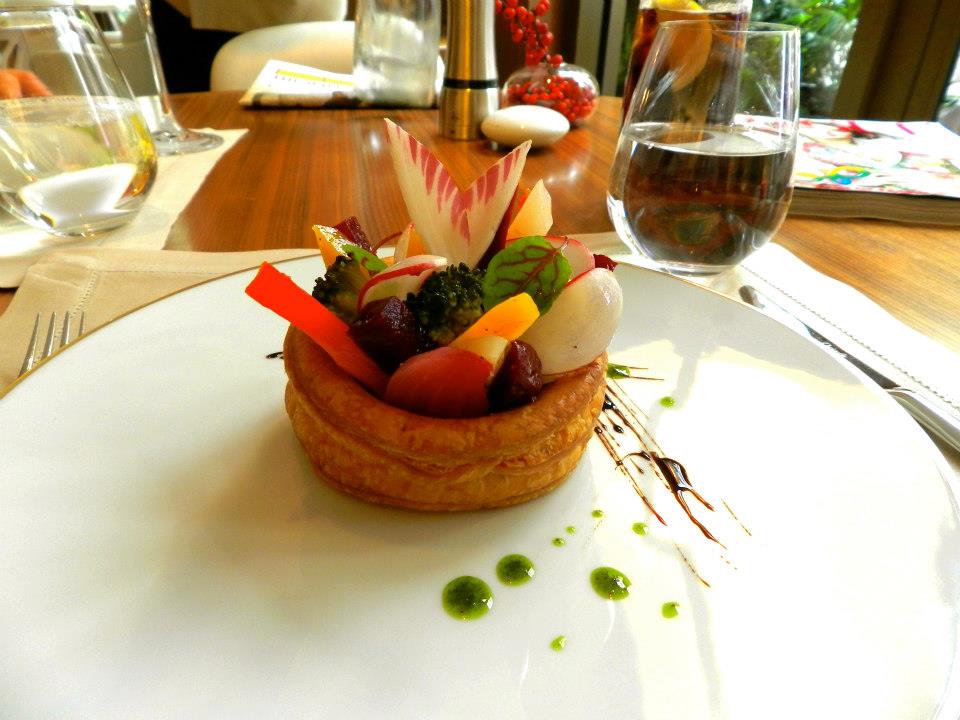 I can still feel the plush carpet on my feet and the soft linens when I crawled into bed that night.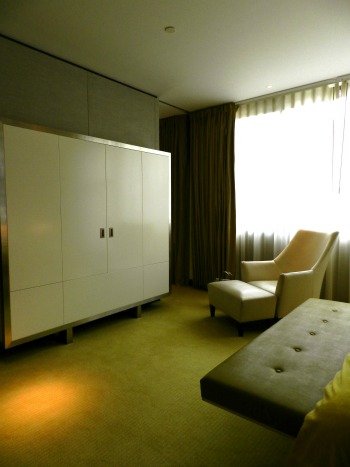 I love the Mandarin Oriental Paris - a ten out of ten.
Thank you Guillaume for such an incredible experience!
Hôtel Prince de Galles
Hôtel Prince de Galles closed its doors in February 2011 for a complete, top to bottom two-year renovation. The long awaited opening day was May 16th… the night I was staying!
This historic hotel was built in 1928 during the Art Deco movement, a style that they have clearly and beautifully carried over. There are stunning features throughout the hotel, such as hand-painted ceiling frescoes in the lounge and floor-to-ceiling windows overlooking the elegant mosaics in the courtyard.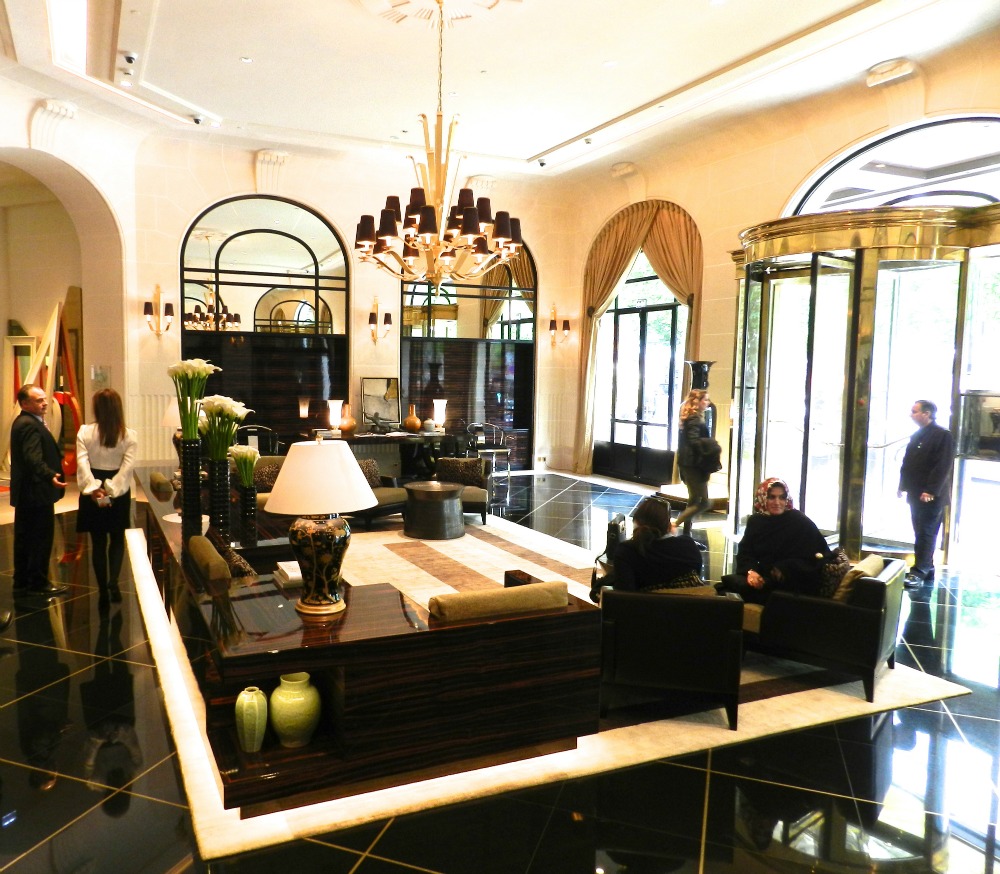 It was exciting to be apart of their opening day. The media was present and the buzz was electrifying.
The official opening presentation took place in the lobby. All staff members were present, from the front desk personnel to waiters, house cleaning, and security. And the chefs, with their wonderful white, crisp aprons and very tall hats, all squeezed into the lobby. They were beaming. You could feel their pride.
Meanwhile, I was literally the only one sitting in the luxurious and beautifully furnished lounge, my waitress was constantly peeking in on me. "I'm fine. Honestly," I told her for the fourth time. "Go, enjoy this moment, it's wonderful and you should be there." And with her smiling eyes, she finally said, "Yes, OK!" and left me alone until it was finished.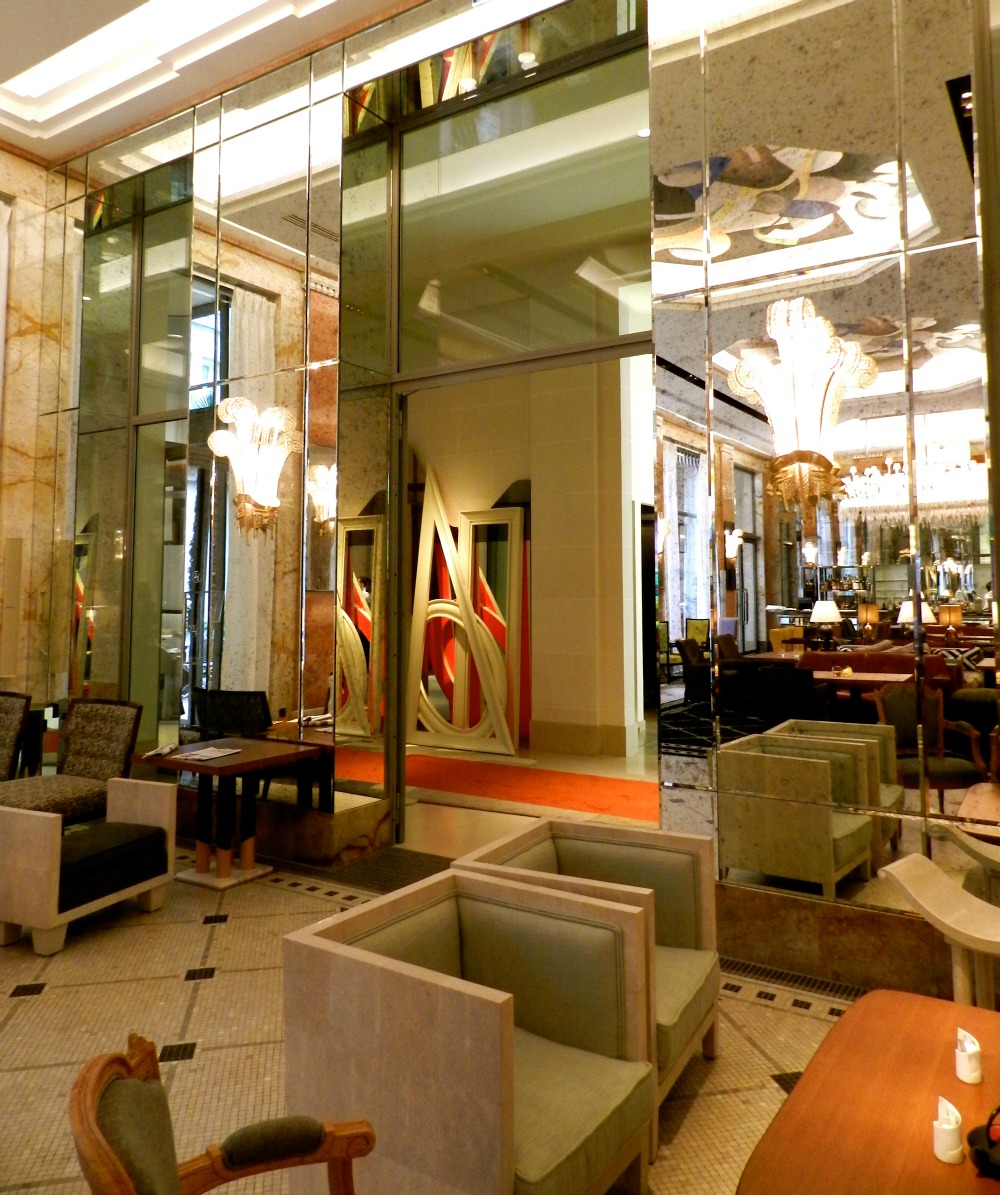 After all the excitement settled down, I was taken to my room: A one-bedroom suite overlooking the courtyard. "What an amazing morning!" I cried out.
Bravo Hôtel Prince de Galles!
La Réserve Paris Hotel and Spa
If the lottery would be gracious enough as to offer me an enormous amount of money, my new existence would pretty much be me moving into here! (Ahhh!)
In early 2015, the eighth arrondissement, with its already impressive buildings such as the Grand Palais and Petit Palais, welcomed yet another wonderful addition to this fabulous area.
La Réserve Paris – Hotel and Spa is perfectly situated off of the Champs-Élysées and offers views of the Eiffel Tower and the Grand Palais.
In 2019 I finally had the chance to experience this little piece of heaven on earth.
The intimate boutique hotel contains 40 rooms and suites. It is furnished in glorious antique décor and throughout the hotel you will find rich velvet fabrics in vibrant colours, stunning chandeliers, marble fireplaces and beautiful art.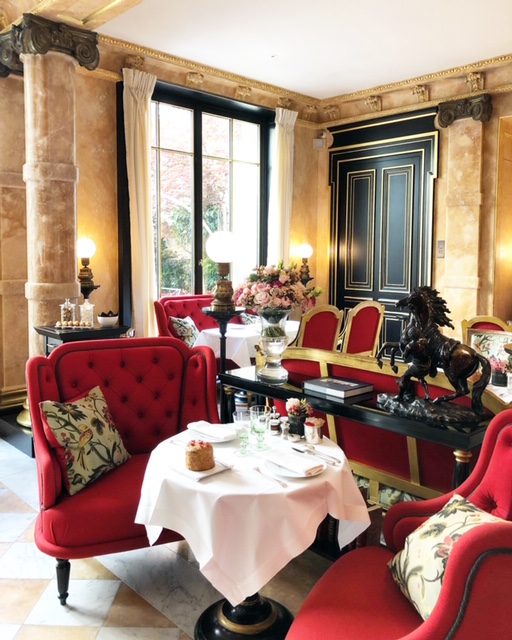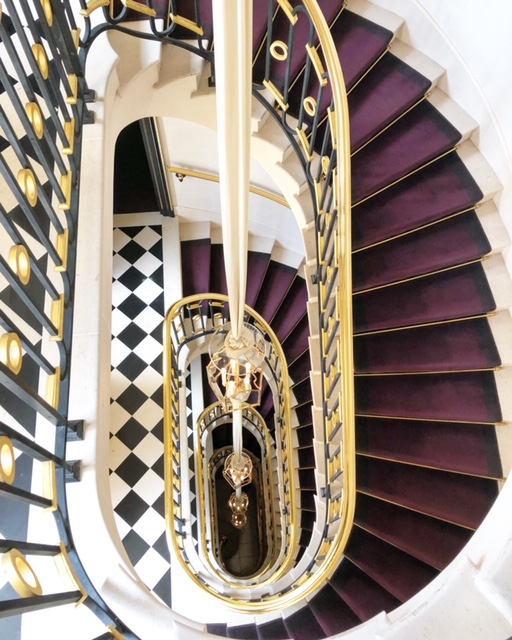 There are several decadent spaces to relish, such as the library, which instantly became my personal favourite!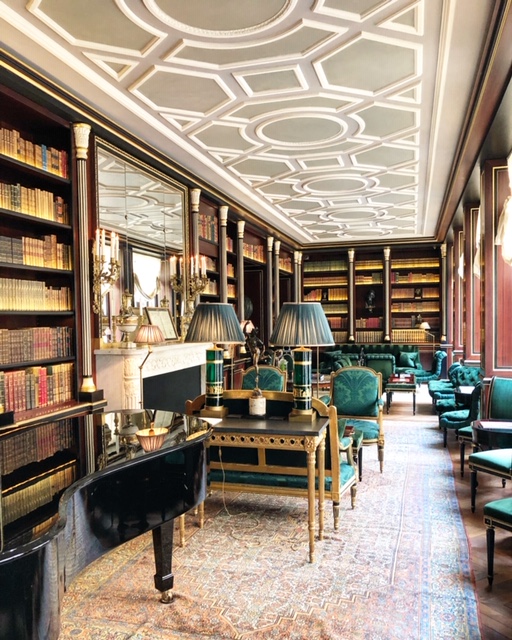 The oohing and aahing began the moment I stepped out of my carriage (aka Uber) and continued while I entered the hotel, passed by the pretty velvet tufted settee in the reception area, and made my way to the elevator. And the ooing didn't stop when I settled into my luxurious room.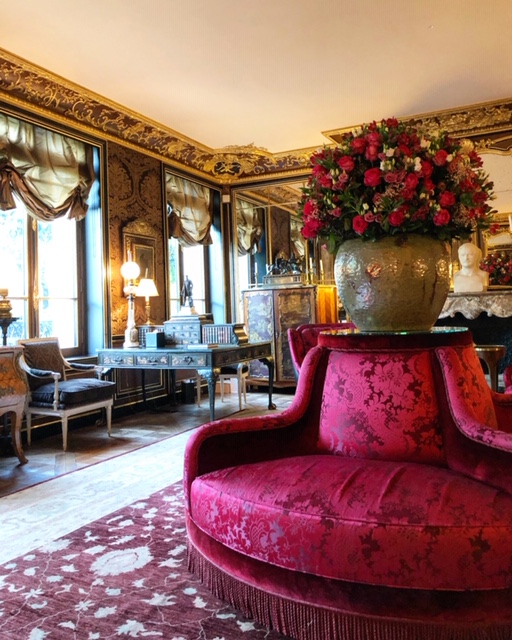 There were too many marvellous features in my suite to mention. One item that I immediately noticed and fell in love with, was the elephant ring holder in my en-suite.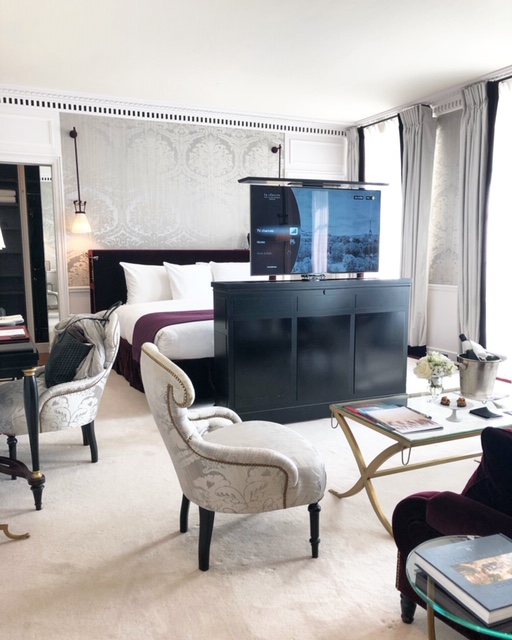 I called reception to say that their adorable ring holder might go missing!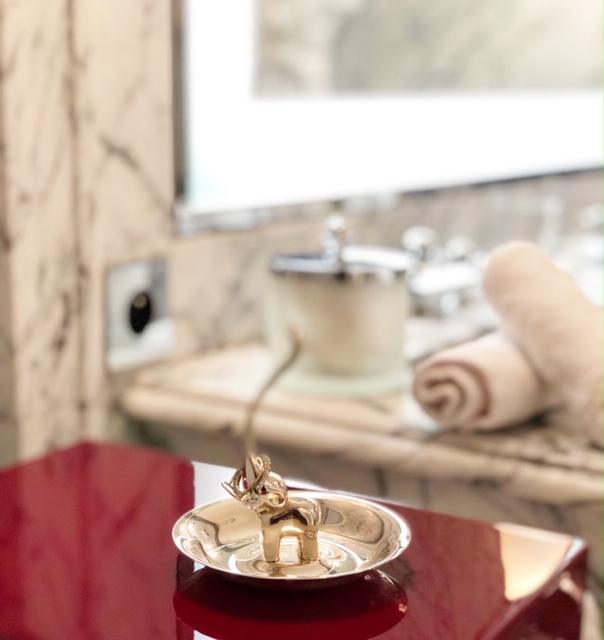 Kidding aside, two minutes later I had purchased my very own, which was beautifully packaged and sent up to my room.
Now it sits in my en-suite at home and I just adore it! The elephant is symbolic of strength and wisdom, and is the emblem of the hotel owner – the Michel Reybier Hospitality group.
Of course, winning the lottery is not required in order to experience a stay here; however, it might come in handy should you have the strong desire to move in like I did!!
"Experience a different vision of luxury. La Réserve." – La Réserve Paris – Hotel and Spa