There are many wonderful areas to shop in Paris, such as Rue du Bac, Rue de Sèvres and Le Bon Marché, but my preferred area has to be the prestigious rue du Faubourg Saint-Honoré which crosses the magnificent rue Royale and merges in to rue Saint-Honoré.
From affordable 5 Euro treasures to ultra luxurious must-haves, this street has everything a woman could ever wish for.
Here are some of my favorite gems you'll find throughout the city, listed by category.
Gorgeous Garb
Comptoir des Cotonniers
Comptoir des Cotonniers is known for its easy wear, comfort and, above all, trendy casual Parisian chic. It holds well made basics with an affordable price tag to boot.
I have several of their pieces, one being a heavy cotton sweater. I was concerned with it keeping its shape and stretching over time; a year later and it's still perfect!
Cotélac
J'adore my new dress from Cotélac!
This French boutique is full of beautiful fashionable and good quality clothing with reasonable prices to boot. My dress was 195 Euros; not cheap, but not bad for some authentic trendy garb!
Ekyog
I love my tops from Ekyog! The cotton is extremely comfortable and their style is classic with a touch of trend.
There are several locations in Paris.
Parisian Bags
Chanel
We landed mid-morning on Christmas Eve. Arriving at our hotel to find out that our room was not quite ready, we decided to part ways and purchase our stocking stuffers. Yes, we brought along our stockings to stuff in Paris. Why not! After hours of shopping the plan was to meet at my favourite boutique, Chanel on rue Cambon, just for a look. Two glasses of pink Champagne later, I left with my Christmas gift: the Classic Mademoiselle Flap Bag! Ahhh!
If you are planning a Chanel purchase, there is no better boutique than the original located on rue Cambon.
Fairmount
The first time I entered this store my friend Andrea and I were overwhelmed by all the beautiful colours! We couldn't keep our eyes focused on one item.
Here they have gorgeous leather and suede classics alongside trendy bags in any colour you can imagine. Regardless, I left... with a brown one! I can't understand why. But I do love my very-soft Fairmount Hobo bag!
Gerard Darel
The unpretentious "it" bag!
Gerard Darel is a popular Parisian brand. You'll find many beautiful, understated bags in all colours, shapes and sizes to choose from.
There are many locations in Paris. I prefer the one in Marais.
Jerome Dreyfuss
My friend Julie is also a bag lover and came across this boutique the last time she was in Paris. She quickly filled me in.
I absolutely love their website! And because I can't get enough of hearing that little boy yell out Oscar, I'm getting one. So, on my next trip to Paris I will make my way to Jerome Dreyfuss and pick up one of their fun, fashionable and funky Parisian bags.
Update: On a recent trip, I did exactly that: I checked into my apartment and headed straight for Jerome Dreyfuss. The Oscar bag was sold out! However, there were many others which I loved. But I have to warn you, they are quite expensive! The small satchels start at 400 Euros. Yikes! But I still love them...
Update II: I bought the Bobi!!!! (The Oscar was not in stock.) I'm in love with my new bag.
Longchamp
The Longchamp brand is extremely popular, especially with tourists. Nevertheless, they are fun, practical and reasonably priced bags; taking out a second mortgage is not required in order to afford one!
With many colours to choose from, the canvas tote bag is their biggest seller, and also makes for a great souvenir.
If it is leather you are looking for their selection of totes, handbags, back packs and clutches is endless.
Louis Vuitton
My girlfriend Orla and I sat on Fouquet's (see Eat section) terrace for hours watching the people go by while nibbling on bread, cheese, meats, grapes and consuming lots of very nice French wine. All of a sudden, a visit to Louis Vuitton was necessary, and the rest is a bit fuzzy. But I believe it took only ten minutes before we were both proud owners of a brand new Neverfull Louis bag!
This particular shop is the flagship store in Paris; four levels of Louis treasures! I do, however, prefer the boutique located beside Les Deux Magots on Place Saint-Germain des Prés. It's a little more intimate, less touristy and no line-ups!
Pierre Boisset
For an orginal designer bag that costs a fraction of the other highend brands, Pierre Boisset is the place.
I do not own one of his creations; however, I have had a really good look! They are beautiful bags.
The House of Moynat
I am a lover of bags – high quality, beautiful, classic leather bags. It is a very expensive passion, which is why I am the owner of only a few. I would take a bag over a bauble any day!
So it didn't surprise me one bit when, while I was walking down rue Saint-Honoré one day, a large glowing red leather bag sitting in a window display stopped me dead in my tracks. Ugh! Yes, please. My eyes scoured the store front, looking for signage. And for the first time I saw the name Moynat.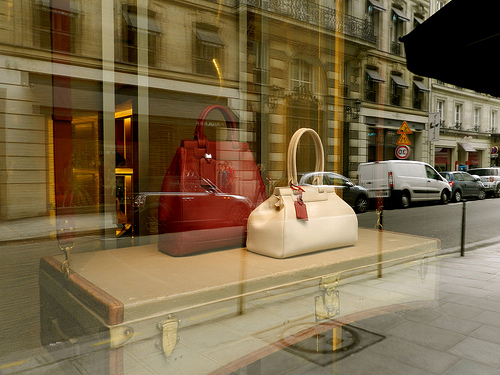 Learning the history of the Moynat brand has been fascinating. The shop opened in 1849 and closed in 1976.
Keeping the fundamentals of Moynat the focal point, the team and its brilliant designer, Ramesh Nair, came together for approximately two years to rebrand the house. The concepts behind their new designs were inspired by the originals dating back to 1878. They quietly opened their doors again in December 2011.
The House of Moynat had returned in a most elegant way. Two designs I find intriguing are the men's Limousine Briefcase and the women's Pauline bag.
The concave base of the briefcase is derived from the original design of the limousine trunk made for automobiles with rounded roofs in 1902.
And the beautifully curved sides of the stylish Pauline bag were inspired by the Moynat trunks which were individually shaped to fit the rear of automobiles in 1914.
The founders Pauline Moynat, Octavie and François Coulembier would be proud. I am proud and have only just been introduced to this world-class brand. Thank you Guillaume and Ramesh for providing me with such an incredible insight into the most wonderful world of Moynat.
Fashionable Feet
Chanel
On every trip to Paris I splurge on one item. I spend months saving my pennies and deciding on what those pennies will be spent on.
On my "Four Days in Paris" trip my splurge was Chanel ballet flats. I have always wanted them! After visiting three different locations I finally found my size. Yes!
They are wonderful indeed!
Colisée de Sacha
I spent the entire summer in my wonderful Colisée de Sacha sandals! The quality of their leather is excellent and extremely comfortable.
They also have a super fabulous boot selection...next time!
Fairmount
As you've probably noticed, I have also mentioned Fairmount in my bag section; however, they are actually known for their shoes.
When you step inside you'll notice the outstanding quality of their goods. The shoes are classic and the selection is extensive.
I couldn't help myself and left with a pair of Car Moc's.
Repetto
The Repetto ballet flat was inspired by the demi-pointe dancing shoe. These elegant and timeless flats were created in 1947 by Rose Repetto and have become quite a sensation all over the world.
They are delicate yet extremely comfortable. You will find them available in many colours and styles.
The beautifully designed boutiques are a joy to visit so put Repetto on your must-see list!
Roger Vivier
Roger Vivier, with their ultimate classic shoes, keeps me coming back. J'adore my Viviers!
The beautiful boutique is located in my favorite shopping area, rue du Faubourg Saint-Honoré which crosses rue Royale and merges in to rue Saint-Honoré. Shopping Heaven!
Specialty Shops
Astier de Villatte
Astier de Villatte makes my heart melt and is unquestionably my favourite shop in Paris!
This rustic piece of heaven holds the most wonderful hand-made pottery I have ever seen. Their simplicity is what makes them so desirable. These little pieces of art (cups, saucers, mugs, plates, bowls, vases, etc.) are mostly in white and there are many patterns to choose from. No two are the same.
Every time I'm in Paris I add to my collection, Alexandre.
Le Bon Marché
Not having visited Le Bon Marché for some time, I had forgotten all of the beauty and temptations it holds!
Opening its doors in 1852, it is the oldest and one of the most famous department stores in Paris. Le Bon Marché specializes in luxury fashion for men and women, furniture and highend gifts. A shoppers' dreamland.
If you are famished and cannot tear yourself away, try Le Café Littéraire. A beautiful cafe located in the book department.
After spending a few hours enjoying every inch of this amazing structure, up and down the escalators a hundred times, and trying on too many shoes, I left with a gorgeous pair of Colisée de Sacha sandals!
Les Ateliers d'origine
My friend Orla and I were wandering the streets of Marais and came across this sweet little shop full of hand-made tassels, pillows, sacks, blankets, fabric covered books, you name it. I love the variety of colours and left with several of her tassels.
Merci
Northern Marais, also known as "Nor-ma", ok maybe not, holds many secrets and less commercial shops such as Merci. What a rarity! Merci is indeed one of the most interesting shops I have ever seen. Entering through a flower shop you find yourself amidst a shopping paradise. You will find a collection of house wares, vintage clothing, shoes, used bookshop, café, furniture, linens and the list goes on. My favorite purchase is the napkin linens. They also make for an excellent hostess gift or souvenir.
A definite must see.
Olivier de Sercey
Olivier de Sercey is a sweet little stationary boutique that has been in existence since 1870. I adore their birthday cards!
Papier Plus
An exquisite hand made paper shop!
The notebooks are hardback and cloth-covered which are available in many different colours and sizes. The stationery is so original and fine you won't be able to make a choice.
I've purchased several souvenirs here which have all been well received!
Exquisite Antiques
Antiquits
If you don't feel like trekking out to Saint-Ouen, you can find many antique shops throughout Paris. One of my favorites is Antiquits, a beautiful little antique shop where during my first visit I scooped up a painting within minutes!
Puces de Saint-Ouen
If you are interested in antiquing, I would recommend a guide. Unless, of course, you are experienced and/or adventurous and/or can speak the language. My delightful Parisian friend Isabelle can take you to one of the most famous and largest antique markets in Europe, Puces de Saint-Ouen. Here are literally thousands of vendors in approximately 15 various markets. I personally enjoyed the Marché Serpette for the gorgeous French country furniture. The Marché Serpette was also recently featured in Conde Nast for its vast variety of unique vintage baubles.
Cosmetics and Accessories
Canzi
If you're looking for cosmetics you must visit Canzi, an organic and natural cosmetic boutique with beautiful bath products and skin care. Here I purchased an exquisite bath scrub only to have it confiscated by security at the airport. I packed it in my carry-on bag, a very stupid and expensive mistake! I was literally in tears and creating such a fuss that I envisioned I would spend a night in a Parisian jail. I left Paris that time feeling a little deflated. So learn from me: don't forget to check any liquid containers larger than 100 ml. Argh!
Hermès
I absolutely love the Hermès' fun multi-coloured bangles.
Though I would very much cherish a Kelly bag I do believe I would lose a husband if caught spending $10,000 on a purse! I shall stick to the bangles. For all you women who can afford to indulge, I hate you.
By the way, Hermès costs much less in France than in Canada.
L'Occitane
Since 1976, L'Occitane has been an international hit. It is still my favorite when it comes to hand soaps.
The brand originated in Provence, where the creator developed fragrances that were natural and authentic, my favorite being the citrus scent of Verbena.
Since it costs less to purchase this product in France than Canada I usually leave with several bottles.
Lovely Vintage
Catherine B
If you are in the market for vintage Chanel or Hermès this is your shop. As you can imagine, her collection— after being in the business for over 20 years—is beyond impressive.
When I walked in I was immediately drawn to the gorgeous Chanel blazers. All those beautiful blazers! I couldn't believe it. She also has shoes, belts, bags and jewellery. You name it, she has it.
Next time I visit I won't be leaving empty handed!
Didier Ludot
Didier Ludot is an internationally-acclaimed vintage shop. Many say that its namesake and owner actually started the vintage craze. For that reason alone a visit is a must. It also helps that this beautiful shop is located under the wonderful arcades of the Palais Royal gardens. Carrying only French designer brands, at the shop you'll find handbags, shoes, sunglasses, accessories… and the list of desirables goes on and on.
Gabrielle Geppert
GG has every brand name you can think of; here you can find Roger Vivier shoes from the 60's, Herme's bags, (still over 4,000 Euros), Chanel bags and so much more. My jaw dropped as soon as I stepped inside and I don't think it closed again the entire time I was there.
However, I did leave a little embarrassed: I tried on this gorgeous little hat and was completely lost in how wonderful it looked on me only to have my husband poke my shoulder to tell me it belonged to another shopper! Oops – and she was French too! I bolted!
For Foodies
Hediard
If you're looking for that perfect foodie souvenir you must visit Hediard. This fine food boutique offers many luxury products.
My husband adores anything and everything with truffles! He is also a huge fan of Foies Gras, and there I found an endless supply of both.
Hediard is also known for it's fruit jelly, cookies, jams and assorted chocolates. Yum yum!
La Grande Épicerie de Paris
The look on my husband's face as we walked into La Grand Épicerie de Paris was priceless. He is a true foodie and was instantly and completely overwhelmed. He started off walking straight in, then walked to the left, then to the right...he honestly had no idea what to look at first!
Forty minutes and three full shopping bags later, I had to drag him out.
It's a fantastic market and shouldn't be missed!
Rue Cler
For all you foodies out there, I strongly recommend Rue Cler.
Rue Cler is an open market cobblestone-pedestrian street with many fruit, vegetable and seafood stands along with a wide variety of restaurants and cafés. You will find one of the best coffees in Paris here at Café du Marche, a pretty little café. (I just love their turquoise French bistro chairs!)
This market is located in the left bank and easily accessible.
If you wish some company, my friend Isabelle will take you to this food lover's paradise to assist in picking out your plat du jour! To guarantee the best selection an early morning visit is a good idea. (This is when staying in your Holiday France Rentals apartment would be ideal, you can cook your own fabulous dinner!)
Book Worms
Librairie Galignani
Dating back to 1520, this book store claims to be "The First English Bookshop Established on the Continent". Though it has moved several times over the years, its current address since 1856 is on the posh Rue de Rivoli, directly across from the Tuileries gardens.
They have a vast selection for the English reader.
Shakespeare and Co.
Not only will you find your next book at Shakespeare and Co., you might also be lucky enough to enjoy a reading from one of your favorite authors. A while back I had the pleasure of hearing Janet Skeslien Charles read bits and pieces from her book, Moonlight in Odessa. Every time I'm in Paris I check their events to see whose reading.
You will find the store quite crowded and jam-packed with books. The heavy awkward front door and creaking uneven wooden floors is the perfect depiction of what I love so much about Europe; old, imperfect and full of character.
It also has a fascinating history which you can find on their website.