Bûche de Noël
Saturday December 20, 2014
The statement "time flies when you're having fun" couldn't be more accurate.
The plan for my little Paris holiday was to taste test as many Yule Logs as I possibly could. However, time was not on my side right from the beginning: I had a five-hour flight delay departing from Toronto. Ugh!
The trip was well worth it, though, and I did manage to experience three Yule Logs during my time in Paris. "Experience" is the appropriate description, as this is exactly what it was. When a pastry chef invests the amount of time these masterpieces require, and we are talking months, a little taste testing turns into quite an extraordinary event.
The Yule Log, or Bûche de Noël, is a traditional Christmas dessert that originated in France…and here is Wikipedia to tell you all about it as I am too busy writing about eating it!
The Enchanted Christmas Log by Shangri-La's Pastry Chef François Perret was the first Yule Log I tried. It took my breath away! It is stunning.
Father Christmas and his team of reindeer is such a masterpiece of culinary art that when it was time to pierce it with my fork I hesitated, and for quite a while.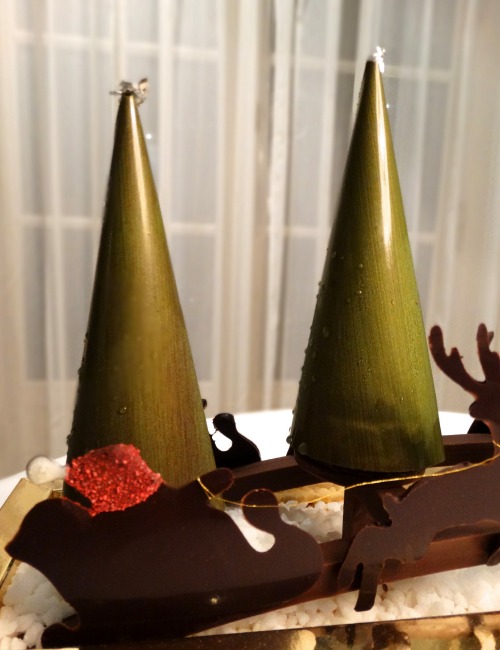 I cannot describe this delicious wonder any better than the pastry chef himself. So here he is:
"The dessert features Father Christmas wearing a customary red hat made of sugar and guiding his sleigh with golden reins over a lace-like milk chocolate base. Carved out of dark chocolate, the reindeer dance around a little group of fir trees decorated with silver leaves. The magical forest consists of a fine layer of delicately brushed green cocoa butter and dark chocolate.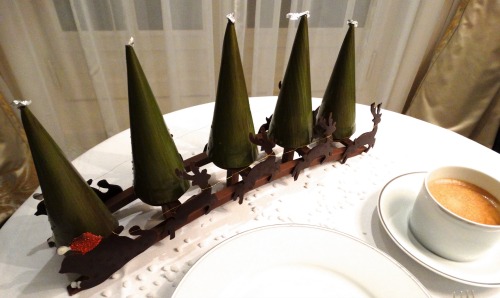 Each tree is a delicious surprise with an array of flavours and textures. With a slight crunch, the dark chocolate covers a wonderfully light flourless biscuit, which melts into a white chocolate cream with a sweetness that is perfectly balanced by a homemade orange marmalade.
Decorated with roasted caramelised cocoa beans that are lightly coated with chocolate, the marmalade complements a traditional light chocolate mousse."
Next up was Mount Everest!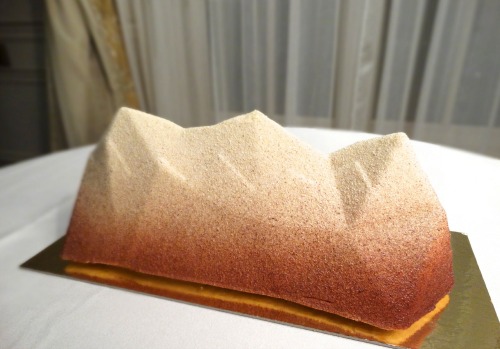 Mandarin Oriental's Pastry Chef Pierre Mathieu created a Yule Log in the shape of a mountain – Mount Everest. It is dedicated to A Chacun son Everest, a French charity created by the first French woman to reach the summit. The charity supports children's cancer recovery by encouraging them to reach their own "Everest." It also supports women with breast cancer. I greatly admire the fact that a portion of the sales will be donated to the association.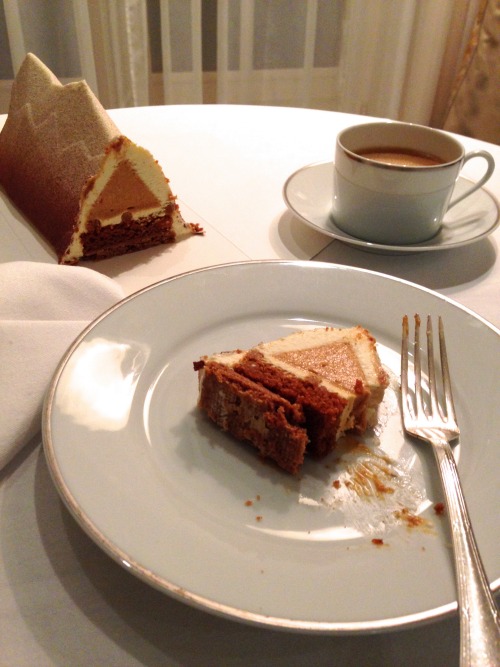 I am a big fan of toffee, and especially caramel. So, when I bit into the sparkling Mount Everest I nearly fell over from the pure joy of what I was tasting.
Last but not least, the Dalí Yule Log. Talk about nailing it! Le Meurice Pastry Chef Cédric Grolet gets it right.
He has created an edible fire log. The tastes are so intricate I can hardly articulate it. I need a dessert sommelier to help me out here.
Chef Grolet guided me through the tasting by advising me on how to fill up my fork with the proper amounts of each section of the cake in order to acquire all of the different flavours in one bite. After three bites with him watching on I really began to appreciate all of the flavours. It was the smoked portion of the log that blew me away. It tasted like the most delicious fireplace. How is that even possible? I can't begin to explain it. And to top it off, the log is beautifully draped by a melted chocolate Dalí clock. BRAVO!!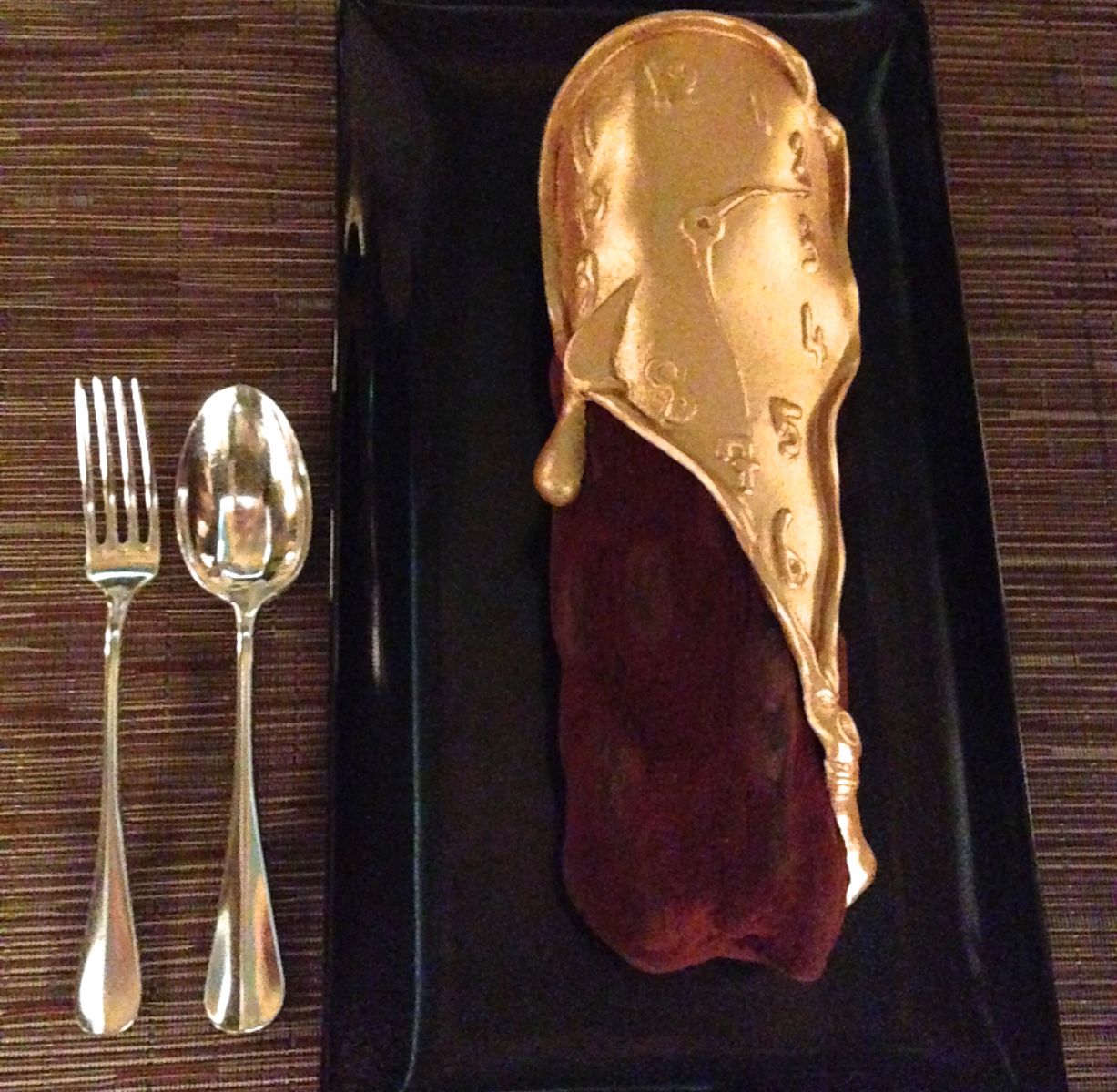 My admiration for the pastry chefs in Paris was already at an all-time high. This Yule Log experiment has now completely taken it over the top – a talented group indeed.

It really is a good thing that I love to walk until I drop in Paris. If I didn't, there would have been a realistic possibility of a ten-pound weight gain
while on this trip.
I cannot believe that it is Christmas next week. Where has the year gone? Time flies when you're having fun!
Warmest wishes for a very Merry Christmas!
Norma xo
I love hearing from my readers. If you have any comments or questions, please do not hesitate to write - info@mybeautifulparis.com.