Spring in Paris: The Fifth and Final Day
Tuesday July 2, 2013
I surprised myself on the morning of day five. Having not hit the hay until 4 a.m., after my fun middle-of-the-night excursion with Carina, I expected to wake up late.
My eyes popped open at 9 a.m.
It's time for hotel number four!!!
I was instantly wide awake, and instantly on cloud nine. I jumped out of bed to pack up and make my move to the très modern and très chic Mandarin Oriental Paris: Hotel Number Four.
When I heard that the Mandarin Oriental was opening a hotel in Paris I was thrilled. I was excited because of the location. I love everything about the 1st arrondissement, especially rue Saint-Honoré.
While passing the site many times during the construction phase, I wondered about the outcome. I am definitely staying there when it's finished. (I love my subconscious. It really does work for me.)
Since their opening I have only had the pleasure of lunching at Camélia. My husband and I had the most fantastic lunch there while we were in Paris at Christmas. I have to admit that I do not have a palate for fine dining, so I was hesitant. Precious food, displayed like little pieces of art, is usually a disappointment in the taste category, at least for me. Not at Camélia. I ordered the 'This Season's Vegetables' dish. It will forever be one of my all-time favourite meals.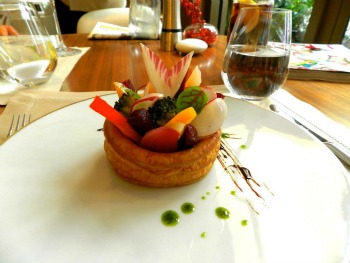 So, as you cam imagine, I was pretty excited to finally be spending the night there.
My first opinion of this hotel when I visited at Christmas was that it was a little cold, perhaps a little too modern? Maybe my expectations were too high, since I had been waiting for the opening for so long. It wasn't like any of the other hotels in Paris. There was a lack of Parisian flair or grandness. For me, something was missing. However, my recent stay has certainly changed my view, and also my appreciation for the design.
When I arrived, they seated me in the lounge and served me tea. This is a part of their check-in process; they make a point of ensuring you are comfortable while explaining the hotel and its many features. All the while, I found myself half listening and half gasping at the large windows exposing one of the most beautiful courtyards in all of Paris.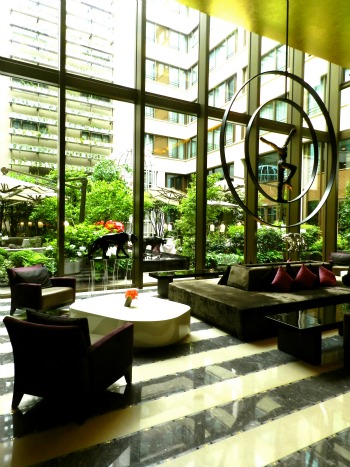 I was then graciously escorted to my room, a one-bedroom suite with a foyer, living area, walk in closet, large bathroom and bedroom with sliding doors leading to a balcony looking on to rue rue Saint-Honoré.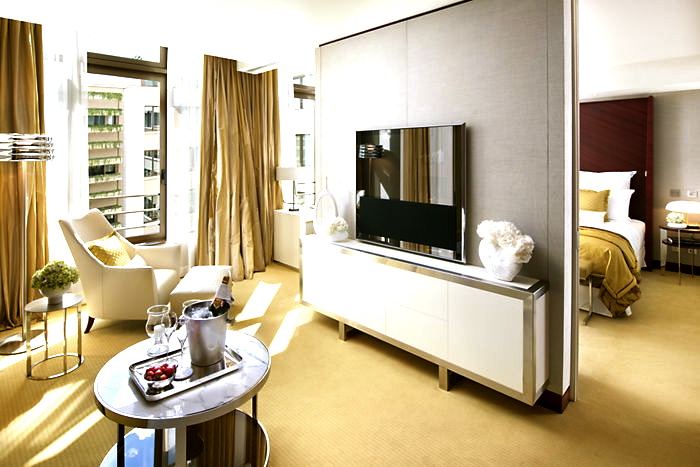 The suite included cutting-edge technology: Bang & Olufsen, Apple. My three discretely positioned widescreen TVs were pretty impressive, especially the little mirrored one in the bathroom. I would have to guess my husband would have been a little more fascinated with the massive ones in the bedroom and living area.
The several Mother of Pearl canisters holding Q-tips and other bathroom staples are fabulous! I wanted to accidentally slip them all into my suite case.
There was a large bathtub and a walk-in shower to fit ten. Not kidding! OK, maybe four. The shower had so many spouts, hand held water sprayers and faucets coming at you in every direction, I wasn't sure what to do with what. But, I can tell you I probably have never been so shiny.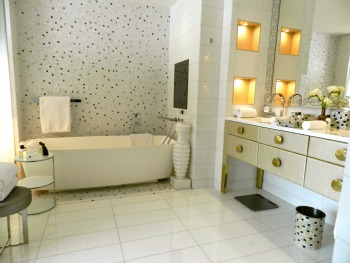 And to top it all off, the luxurious bathroom product was by diptyque. C'mon!
Having gotten acquainted with my room, I left the for my last day of wandering. I met up with my sweet friend Lynne at Bar 228 for lunch. They have the best, and most expensive, club sandwich in all of Paris. That is my opinion, anyway.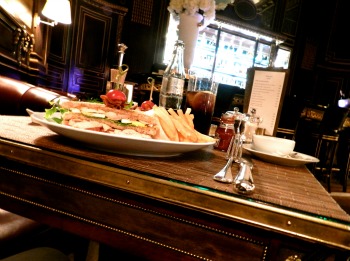 Why do I have a club sandwich when I am in Paris you ask? I'm not sure. I don't even order them back home in Canada.
After lunch, it started to rain, giving us the perfect excuse to shop. Then it was back to the hotel for my final evening in Paris.
I can still feel the plush carpet on my feet and the soft linens when I crawled into bed.
The Mandarin Oriental Paris has no doubt made it to the 'Luxury' section on my site. Thank you Guillaume for such an incredible experience.
And so that concludes my wonderful and memorable Spring in Paris.
Until next time Paris...which happens to be in September!! :)
Image credits:
1. The Guardian, via www.guardian.co.uk.
2. Olivier Lalin The Blog - Photo shoot for Max Chaoul Couture, via http://www.olivierlalin.com/blog.
6. Superior Suite, via http://www.mandarinoriental.com/paris/accommodation.
11. Lynne Knowlton - http://www.lynneknowlton.com.