Midnight in Paris with Carina
Tuesday June 25, 2013
My friend Carina is an extremely talented photographer. She has a real eye and a distinctive style. She takes a snapshot like no other.
Once, she mentioned her midnight photo sessions. Scouring the streets of Paris until the wee hours of the morning to find that perfect image, she captures dark, romantic streets, and squares while the city sleeps. What a wonderful thing to do, I thought.
Recently, while I was in Paris, she implied that she was itching for another midnight adventure. "Take me!" I begged. So we set it up so that I was going to tag along.
Carina picked me up, Nikon and mini tripod in tow, at 11:45 p.m. sharp. I hopped into her car and the photo session began. So did battling drunken weirdos and nighttime flashers.
Yes, you read that correctly – flashers. OK, only one flasher. But that was really quite enough! Halfway into the evening, while shooting Square Gabriel-Pierné, we spotted Mr. Flasher. The second we realized what was going on we grabbed our equipment, which consisted of two ginormous cameras (Carina's), a serious tripod, (Carina's), a six-inch high mini tripod (mine), and a pocket camera (mine), and scrambled down the street, hollering "grosssss!!" with our red ponytails bopping in the wind. I will save you the disgusting details, but let's just say that Carina and I are forever changed. Yuck!
Prior to that distracting event, our first stop was Place de la Concorde. The two enormous monumental fountains, which date back to 1840, are usually swarmed with tourists. They endure thousands of flashes every day. Well, this time they were just ours.
We also made our way to one of my favourite spots, the Abbey of Saint-Germain-des-Prés. A captivating place, to say the least. Founded in the sixth century, the history that surrounds this site is, needless to say, extensive. While looking up at the bell tower, I thought of the people who, so many many years ago, would have seen the exact same vision.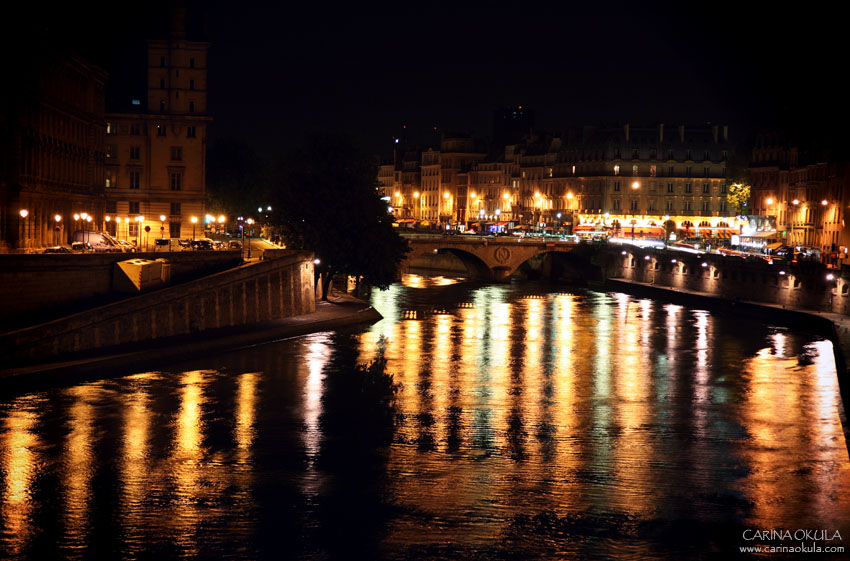 Crossing Pont Neuf with not another soul in sight was peaceful. It was so entirely quiet and still. An incredible way to experience Le Seine.
When Carina and I first planned our excursion she had asked for the places I would like to go. I was quick to answer, "Place des Vosges." This square will always be my favourite. I have visited many times, but never at 3 in the morning.
The light was low and the arcades were haunting. Looking straight down them, you would never know it was 2013. Instead, I imagined Victor Hugo and his wife Adèle sauntering along.
I thought it was perfect to end our magical 'Midnight in Paris' adventure at Saint-Étienne-du-Mont, with a quick picture of the famous church steps where Gil awaits his vintage ride into the past. It is a beautiful spot.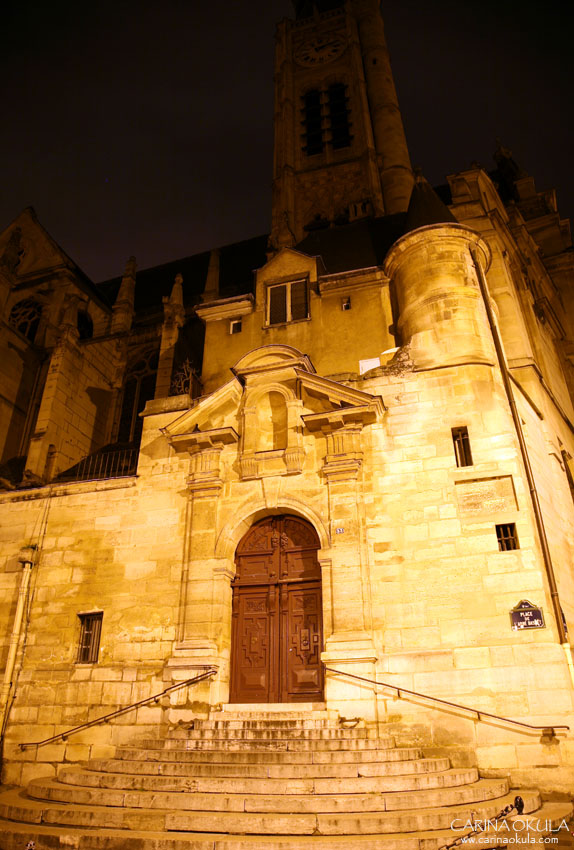 It was difficult to keep at it while being whistled at by drunken teenagers (hey, don't get me wrong; at my age, I'll take it!) It can be a little disrupting, and we lost our focus. Or, it could have quite easily been the fact that it was 3:30 a.m.
So, we decided to call it a night. And what a night it was.
Image credits:
All snapped by the lovely Ms. Carina Okula - www.carinaokula.com/ .