A Country Escape
Thursday February 23, 2012
I found out about this hotel through my favourite Bordeaux establishment, Les Sources de Caudalie. When I discovered Les Sources had a sister-hotel 15 minutes outside of Paris, well, it was only a matter of time. And so, on my last trip to Paris the time had come and I spent a most wonderful night at Les Etangs de Corot.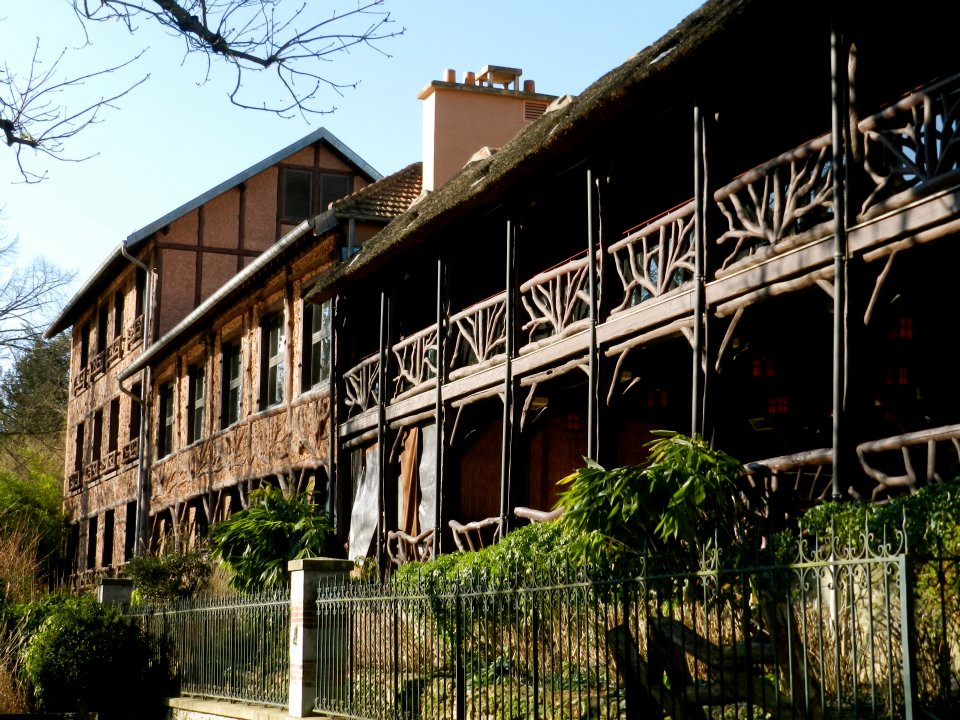 The hotel is located in Ville-d'Avray, a small town close to Paris and only five minutes from Versailles. The Parisians love and frequent the hotel because of its location. It gives you the feel of a weekend in the country yet you are still so close to home.
I was quite excited as I walked through the front doors. I immediately felt this place was special. For me, a hotel vibe is instant. Either my stomach drops with dread or my pulse rises with anticipation, whether it's a budget hotel or a luxurious one. I adore my home, but I love so much the perfect hotel. And perfection can range anywhere from modern design to elegant to French country like this one. It takes a certain something to make a hotel and this hotel has that certain something.
The lobby is comfortable, inviting and warm. As I was checking in I was peering through the glass doors that face the inner courtyard. This is when I fell in love.
Walking to my room took forever as I kept stopping to snap pictures of the sunlit corridors lined with bottles and little nooks here and there holding furniture, old desks, mirrors and bookcases.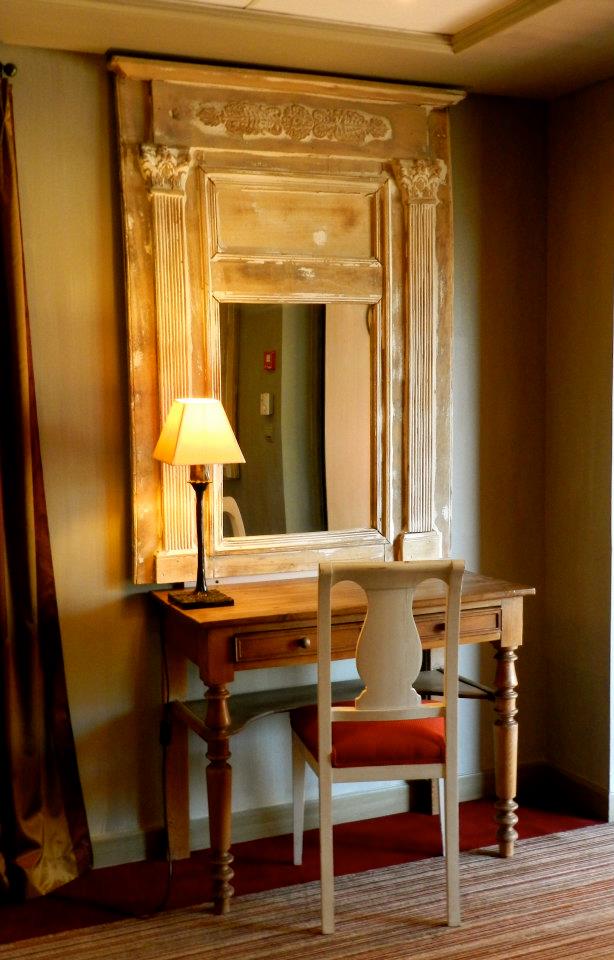 The pleasure continued as I opened the door to my room. There was a big beautiful bed covered in a purple velvet coverlet and a gorgeous little balcony overlooking the lake. Looking back into the room a few steps up sat a writing desk with a view of one of the little courtyards. The room was lovely and incredibly cozy.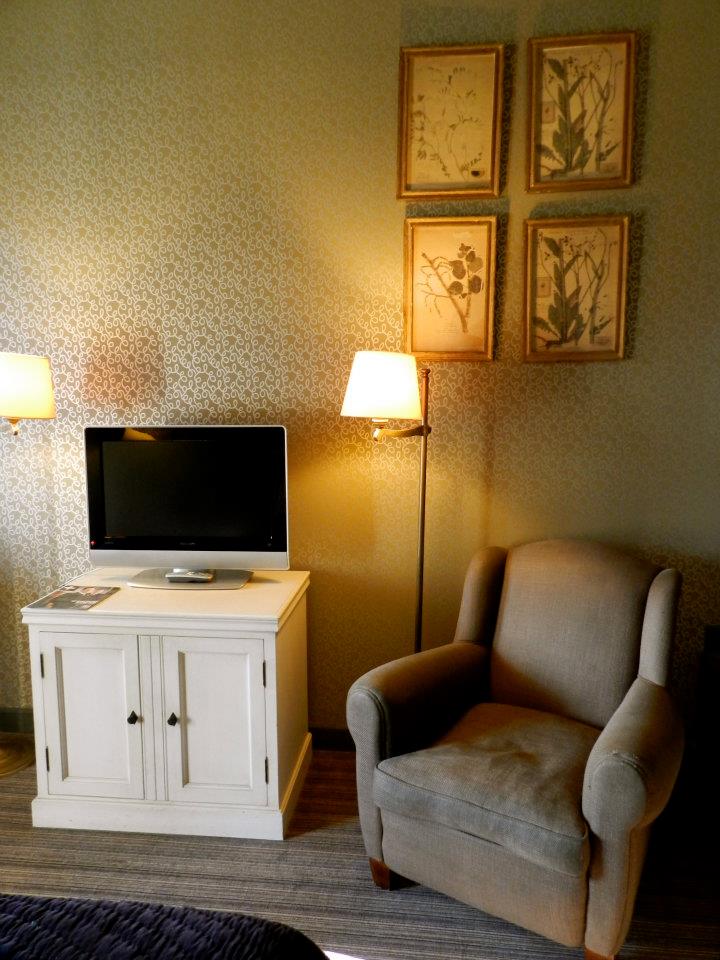 After check-in I grabbed my camera and went off to diarize this magical little place. The lake situated behind the hotel is serene. It was extremely peaceful and felt magical. The grounds hold little sitting areas and courtyards with glorious old fountains. Every corner was exquisite.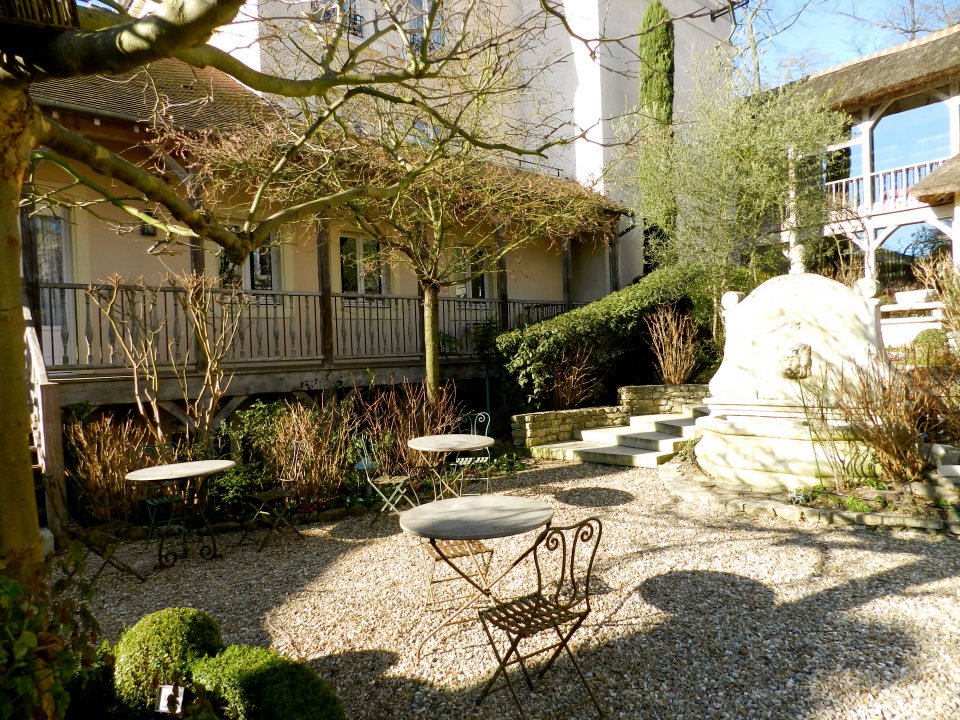 As it's known for its Vinothérapiespa which offers vine and grape-based treatments, there was no question: I had to participate. My choice was a Merlot Friction Scrub and the Caudalie massage. Both were fantastic! The treatment room faced the lake. I can only imagine the view in the summer.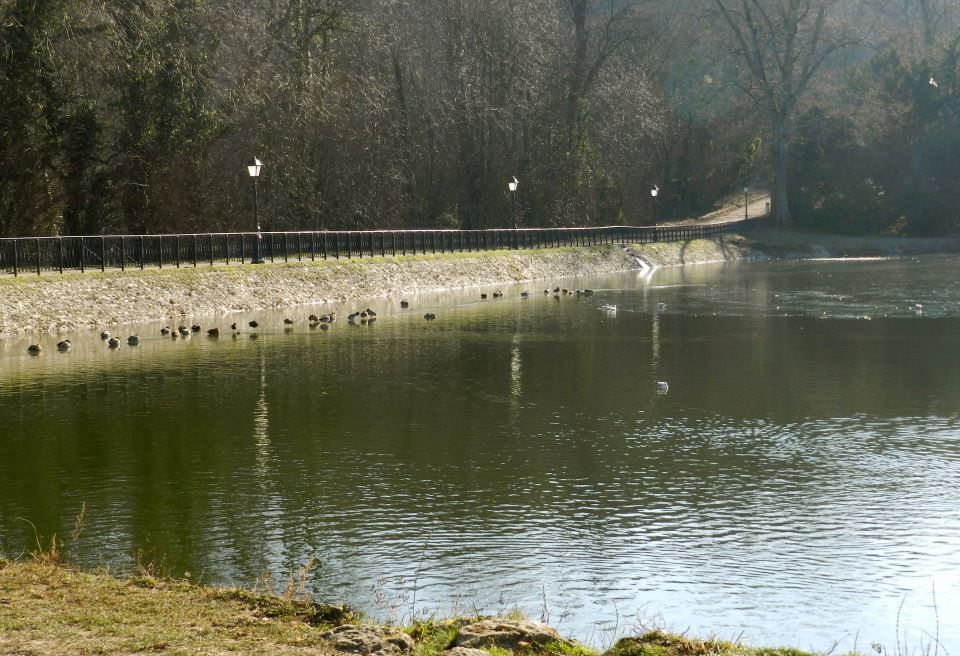 My friend and I dined on lamb, Bavaria beef sirloin and a mouth-watering pumpkin puff with basil and goat cheese in Le Café des Artistes. With their house wine being Smith Haut Lafitte, we didn't have to look twice through the drink menu. And for desert, who could resist the poached pear and apple tart?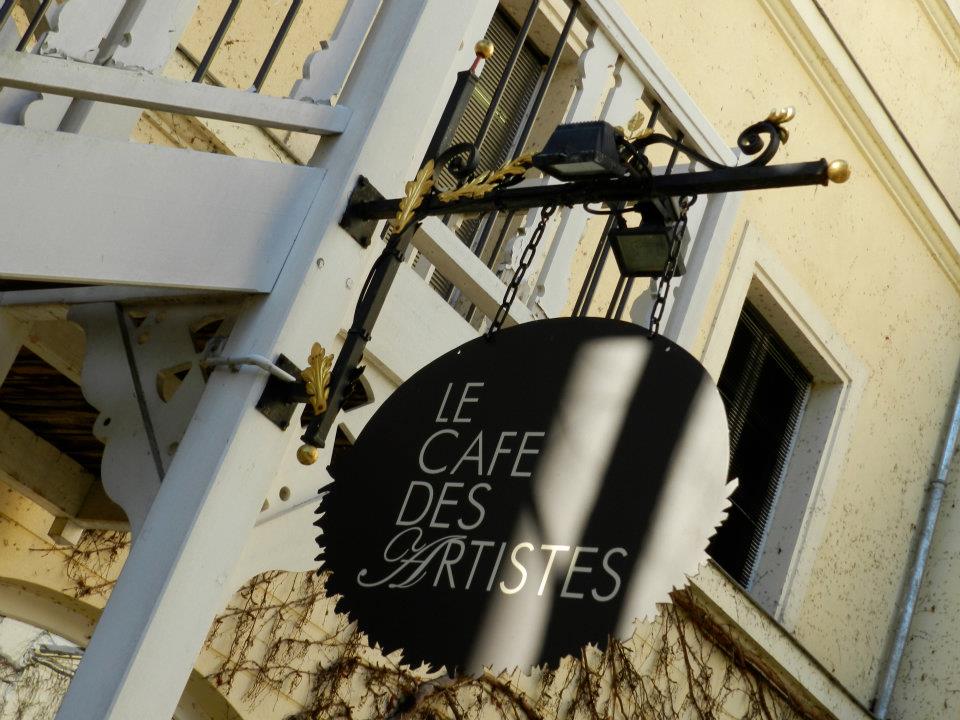 The sincerity of the staff also played a large part in making you feel like you were home away from home.
Les Etangs de Corot is a magnificent spot and I hope to return over and over.